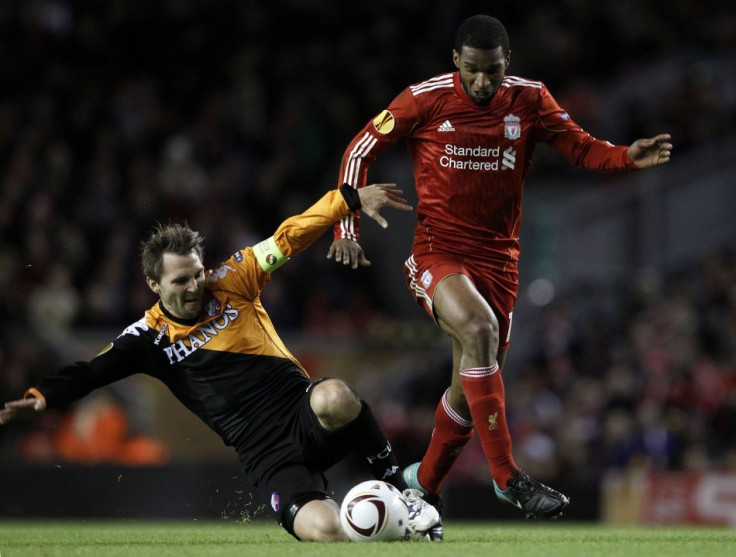 Former Liverpool striker Ryan Babel has recounted a bizarre feud he had with a children's entertainer dressed as the cartoon character Spongebob Squarepants.
The notoriously outspoken former Anfield striker left Liverpool in January following an underwhelming four year spell in Merseyside but not before he had left a lasting legacy of bizarrely entertaining off-field headlines.
Liverpool paid Ajax a reputed £14 million for the then precocious yet evidently talented young Dutchman in 2007. Then Liverpool manager Rafa Benitez moved swiftly in the aftermath of his superb showing at the Under-20 FIFA World Cup, but the forward failed to deliver on his early promise and at times was a hugely controversial figure at Anfield.
Babel was plagued by a string of unusual headlines and press attention during his time at Liverpool which were more often than not the direct result of his proactive presence on the social networking site Twitter.
The Liverpool striker was famously fined £10,000 by the FA for posting a doctored picture of Premier League referee Howard Webb in a Manchester United shirt, following Kenny Dalglish's side's 1-0 defeat at Old Trafford in the FA Cup in January. The episode was an unwelcome introduction to the Anfield legend's first game back in charge of Liverpool and although the Scot defended his player, the winger's relationship with the Liverpool boss was never likely to be anything more than a fleeting acquaintance.
Babel left Liverpool shortly after the aforementioned incident yet although he is no longer on the books at Anfield, the 24-year-old appears to have lost none of the unique charm that attracted bizarre headlines and a cult following in equal measure.
Addressing his 305,201 followers on Twitter, the former Liverpool winger has recounted a recent clash he had with a man dressed as SpongeBob Squarepants.
The Holland international revealed he had hired the entertainer for a children's' birthday party but was shocked by SpongeBob's less than method approach to the performance. Surprised by SpongeBob's smoking habit and apparent lack of understanding of the role required, Babel subsequently discovered the actor was a recently released criminal.
Explaining the humorous story to his legion of followers, the former Liverpool star wrote on his twitter page, @RyanBabel: "If you invite a character to a kids' birthday party you wanna see that character BE that character,"
"Spongebob was taking his helmet off and was smoking a cigarette in front of the kids.
"Spongebob doesn't take his face off on TV and show a black face underneath it.
"So I got mad at Spongebob in front of the kids and when I get mad I get loud and I get rude.
"I was like: 'Spongebob, put your helmet on and put the damn cigarettes out. You can't smoke in front of the kids man, are you crazy?'"
The ex-Liverpool midfielder continued: "Here is the thing that made it bad, nobody told me that Spongebob was fresh out of jail,
"Here is when I find out, he was like: 'Man, eff you and these ugly ass kids. I just got out and I'm here to get paid.'
"I'm such a sissy that when I heard 'jail' my whole attitude changed.
"As soon as I heard jail I said 'No no, you're not listening. I didn't say you can't smoke I just said 'don't blow it in their faces.'
"That's all I'm saying Spongebob. I mean blow the smoke up or something, but just give the kids a chance to not have cancer, that's it. I get it you're stressed out man, you just got out of jail, I mean come on, I'll smoke one with you.'"
Babel famously recorded a less than suitable rap anthem during his Liverpool career regaling fans of his debauched tales of buying expensive wrist-watches, spending money and enjoying less than chivalrous relationships with numerous women.
Since leaving Liverpool in the January transfer window he has gradually gone about restoring his on-pitch reputation, even if he remains a colourful character off the pitch. He has netted four goals in 14 games for Hoffenheim this season and was recalled to the Holland squad by Bert van Marwijk for their friendlies against Switzerland and Germany last month.