Palestinian supporters claim Portuguese superstar Cristiano Ronaldo publicly endorsed their cause by refusing to swap shirts with Israeli players during Friday's World Cup qualifier in Tel Aviv.
After the match Ronaldo walked straight off the pitch rather than exchange his shirt for an opposition player's, a ritual which is common in international football. He appeared to chat briefly to one Israeli player, before walking away.
However it is unclear whether this was a deliberate snub from the world's most expensive player, who appeared angry and frustrated throughout the match.
In the build-up to the game, Ronaldo posted a picture of himself and his teammates in Tel Aviv on his Facebook page, describing it as a "great morning". The comment drew a torrent of protest from Palestinians.
Despite the ambiguity, those who support an independent Palestine were quick to hail Ronaldo's actions after the final whistle on Friday. A video of the alleged snub was posted on YouTube, attracting dozens of messages of support.
One message read "Respect for ronaldo. A real Human!" Another user wrote "zionist scum deserve it... 2 thumbs Ronaldo".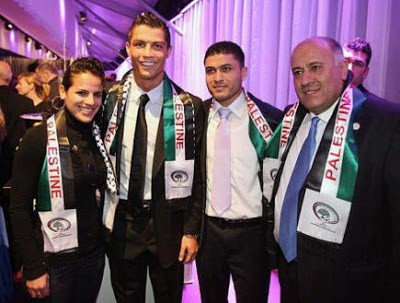 Ronaldo has expressed support for Palestine several times in the past. The former Manchester United winger previously donated a part of his earnings to charities dedicated to building schools in Gaza.
Last November, Real Madrid's official Arabic website posted news of Ronaldo donating £1.2 million to Palestinian children. The 28-year-old gave away his Golden Boot award to the Real Madrid foundation, which later put it up for auction to raise money for building schools in Palestine.
During his time at Manchester United, Ronaldo was spotted sporting the keffiyeh, an item of headgear which rose in prominence in the Arab world in the 1960s with the beginning of the Palestinian resistance movement and its adoption by Palestinian politician Yasser Arafat.
READ: Christian Ronaldo Versus Israel: Eric Cantona, Eden Hazard and the Football Stars Backing Palestine
(Courtesy: Hawkar Hako, YouTube)