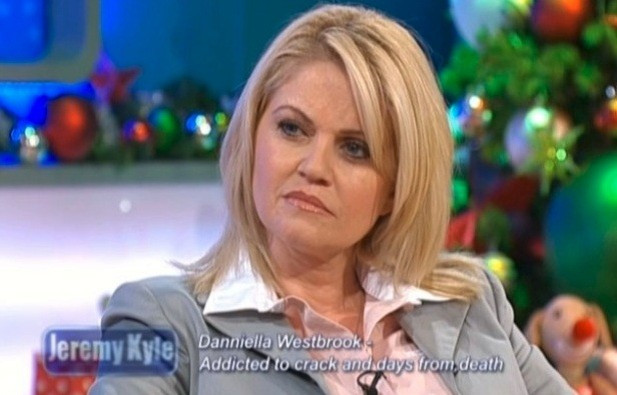 Former EastEnders star Danniella Westbrook has confessed to snorting cocaine while she was in labour.
The 39-year-old ex-drug addict made the claim on The Jeremy Kyle Show.
Westbrook, who played Samantha Mitchell in the East End soap, admitted that she often used up to five grams of the class A drug every day while she was carrying Kai, who is now 15.
The star, whose septum famously collapsed as a result of her addiction, said she even snorted a line of coke before giving birth and another line just 10 minutes after her son was born.
"I asked people to leave the delivery room after I'd given birth so I could have a line," she told Kyle.
After baby Kai was born, she continued taking coke and recalls a terrible situation when he had to save her.
"I had a cocaine convulsion and my three year old son was trying to put a Mars Bar in my mouth, trying to make me come round.
"No-one could help me. I used to do coke off the back of a Disney DVD that my kids watched."
Now clean for 12 years, the mother-of-two wept as she said: "I could have killed my son and my daughter.
"I tried for years to make it up to them, then I realised I just had to be a mum and love them. The only thing I can do for them is stay sober.
"At one point, I asked social services to take Kai away from me because I needed help. It took a lot for me.
"I feel ashamed a lot of the time. Whatever I do, however well I do, I still feel shame for being a drug addict."
She praised her second husband, Kevin Jenkins, for helping to turn her life around. The millionaire businessman forced her into rehab after he discovered that she was stealing from him to fund her habit. He ultimately saved her life.
"I was three months pregnant and he just put me on a plane to Arizona. I was so drugged up I didn't know what was happening," she said.
"The first two weeks I was a terrible person but then I just thought 'I need to do this'."