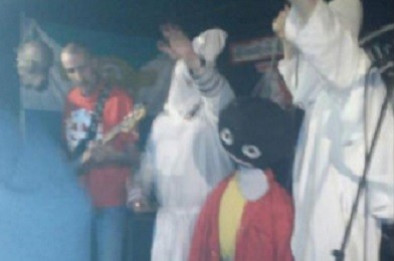 A member of an extreme far-right group who posted videos of himself onstage dressed in Klu Klux Klan robes hanging a life-size gollywog doll has pleaded guilty to stirring racial hatred.
Darren Clifft - charged under his real name of Christopher Philips - admitted the charges at Wolverhampton Crown Court. He is likely to face a jail term when he is sentenced on 19 December.
The court heard how Philips, 23, from Wolverhampton, posted three videos of himself on YouTube dressed as a member of the KKK performing the mock-lynching.
The event, organised by the National Front, was followed by a rock concert organised by Blood and Honour, a Nazi-inspired group which takes its name from the motto of the Hitler Youth.
The court heard Philips - who describes himself on Twitter as the "Clansman of the West Midlands infidels" - had received death threats from anti-racist groups following the stunt.
Philips, who was arrested following an investigation by the West Midlands counterterrorism unit, pleaded not guilty to a second charge of stirring racial hatred. The second charge will remain on his file.
Det insp Darren Powney said police acted quickly to investigate Philips and bring him to court.
"We understand how offensive and distressing this type of material can be and urge anyone who has concerns about extremist behaviour of any type to contact police on 101," he said.
Philips is known to police having previously voiced support for the Norwegian mass-murderer Anders Breivik, who killed 77 during the 2011 massacre in Norway.
Breivik was jailed for 21 years last August, but used his trial as a platform to promote his extreme anti-Islamic, anti-feminist and anti-Marxist views
Cliift even set up an online petition to free Breivik.
"At least Breivik achieved something with his life", he wrote. "He killed as many left-wing liberal loonies as he could. He is truly an inspiration. He sacrificed his life so that Europe might be free once again from the clutches of Islam."