When Andy Gray ludicrously proclaimed that Lionel Messi would struggle on a wet Wednesday night in Stoke, footballing experts were united in their derision for the veteran Sky Sports pundit. But Gray was simply evoking one of English football's most beloved shibboleths; that any foreign player, no matter how many medals he brings with him, has to prove himself in the muck and bullets of our game before we can truly respect him. A fancydan import may have mixed it with the likes of Andres Iniesta and Ronaldinho in the past, but if he can't win a 50-50 against Jason Roberts or Shaun Derry, he's no use to us.
This time-honoured belief is still central to the recruitment strategy of many Premier League clubs, where the primary objective is survival and foreign imports are required to thrive in gritty relegation six-pointers and derby matches. But for those clubs which breathe the rarefied air of the Champions League, the test of a foreign footballer's merit is two-fold. Sure, they have to be able to rein in their skills for a mid-winter scrap at the Britannia Stadium, but they also have to be able to rise to the challenge of the Nou Camp or Bernabeu in the first throes of spring.
Even the most ardent Manchester United supporter would admit David De Gea has struggled with the first instalment of his two-part exam. At times, when United have come up against more physical opponents, the young Spaniard has appeared about as reassuring as a liferaft in a tsunami. His feeble flaps and punches have drawn scorn from swathes of pundits, most recently Gary Neville, who was critical of De Gea's error which cost United victory in their match at Tottenham Hotspur last month.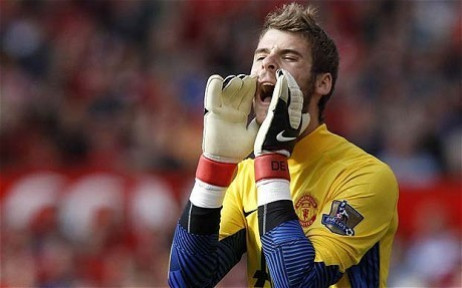 But in the second part of his test, which begins when United take on Real Madrid tonight, De Gea should be far happier. Born and raised in Madrid, he will be on familiar territory when United take to the field this evening - the sights and sounds of the Bernabeu cauldron will feel far less alien than the more grizzled surroundings he encounters on a weekly basis in the Premier League. He certainly won't have to contend with some pot-bellied troglodyte shouting 'dodgy keepa' every time he appears fallible; the Spanish public respect his ability, with Madrid newspaper Marca regularly touting him as a long-term replacement for Iker Casillas at Real.
If De Gea can take confidence from his familiarity with the Madrid public, and the esteem in which they hold him, he should also be emboldened by the style of the team facing him. Madrid striker Karim Benzema is hardly a battering ram in the style of Andy Carroll or Kenwyne Jones, and Cristiano Ronaldo is no longer the type of winger whose default destination is the byline. The deluge of crosses De Gea faces on a weekly basis in the Premier League will seem a distant memory tonight.
Instead, he will be required to deal with an endless barrage of shots. In addition to Benzema, who is far more dangerous on the ground than the air, Madrid are likely to start with Xabi Alonso and Mesut Ozil, two players who love nothing more than testing the keeper from range. And then, of course, there is Ronaldo, whose extraordinary goalscoring record in Spain is founded on the potency of his swerving shots, and his willingness to try them at every opportunity despite frequent protestations from better-placed teammates.
De Gea should be ideally equipped to cope with this barrage. Blessed with agility, feline reflexes and a gift for improvisation, he wows United fans with his miraculous saves as often as he infuriates them with his flaccid punching. In the 26 games he has started for United this season, he has conceded a total of 13 goals from crosses. However, he has been beaten from outside the area just three times. If Ronaldo plans on unleashing one of those dipping 25-yarders this evening, he'd better get his radar spot on.
A commanding performance tonight won't make David De Gea's career at United. But, with rumours circulating about a possible approach from Sir Alex Ferguson for Asmir Begovic, it might just be enough to save it. De Gea has never faced a more threatening group of attackers during his time at Old Trafford; yet he has also never had a better opportunity to shine.