David Haye was left unimpressed with the performance of Vitali Klitschko on Saturday night as the WBC heavyweight champion secured a stoppage victory over Manuel Charr in Moscow.
The Ukrainian giant said that he would be retiring after the fight as he looked to begin a career in politics, but it seems Haye believes he can tempt the champion into one more fight.
Klitschko was in control throughout the four rounds at the weekend, and after opening up a cut above Charr's eye, the referee was forced to stop the contest.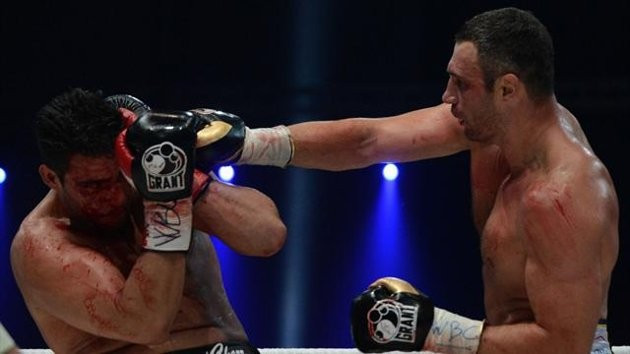 Haye was critical of the display and he believes that Klitschko needs to face him in order to define his career.
"I want to convince him he's not had a defining fight," Haye told Sky Sports. "His biggest fight was against Lennox Lewis which he lost. Although he has a long string of victories, none have been against opponents who have brought any excitement and entertainment.
"For someone who wants to retire, you want to retire on a big fight and that fight against Charr was definitely not a high."
The former WBA champion, whose only loss at heavyweight came against Wladimir Klitschko, is confident that he would be able to secure a knockout victory against Vitali.
"I was very ­disappointed with Vitali's performance and I would love to get in with him and knock him out," Haye revealed to the Daily Star. "I saw so many holes in his defence. He would not last six rounds with me.
"I would throw clusters of punches. Vitali is a ­warrior but his chin is not better than my punch. His performance was terrible. He should be ashamed of himself.
"Bernd Boente, the ­Klitschkos' manager, said after Vitali's fight with Chisora that we should fight each other and the winner then fights Vitali.
"I've done my part and I hope Vitali is a man of his word and fights me. It will be the biggest fight in ­Germany and one of the biggest in boxing history.