Police Investigate David Nalbandian for Assault on Line Judge During Queen's Final [VIDEO]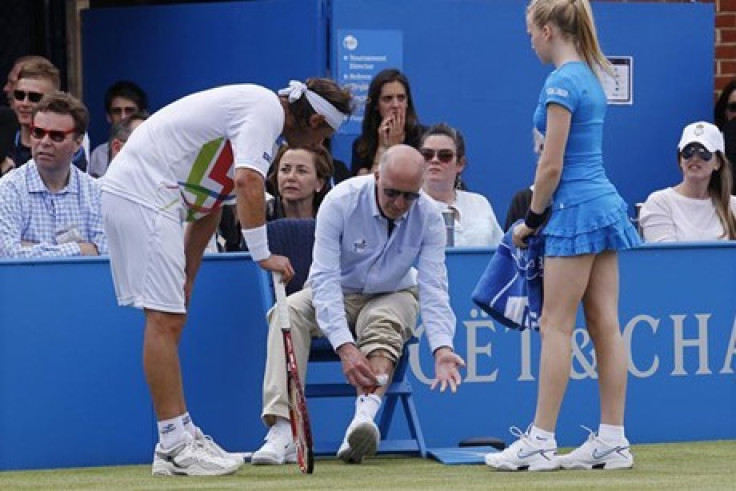 Police have confirmed they are investigating a complaint of alleged assault against David Nalbandian, who was disqualified from Queen's final for kicking an advertisement panel at a line judge.
The Argentine tennis player was beating Croatian Marin Cillic at the final of the AEGON Championships when he kicked an advertising board against the leg of line judge Andrew McDougall, 54, after Cillic broke his serve in the second set.
The boarding struck McDougall in the shin, leaving him with a cut which started to bleed. Umpire Fergus Murphy then disqualified Nalbandian for unsportsmanlike conduct and awarded Cillic the title by default.
Nalbandian, 30, also had his £36,500 prize money from the tournament withdrawn and could be fined a further £6,400 following the incident.
Nalbandian, who was the 10<sup>th seed at the tournament, apologised for losing his temper, explaining: "Sometimes you get angry. Sometimes you cannot control those moments. Maybe you throw a racket or maybe you scream or maybe you do something like that. So many things happen."
"I do a mistake and I apologise, and I feel very sorry for the guy," he said. "I didn't want to do that."
Metropolitan Police confirm they are now investigating the incident. A spokesperson said: "We are aware of an incident at the Aegon Championships on June 17.
"A complaint has been made and the Metropolitan Police Service is now investigating. The allegation is of assault."
Nalbandian was also fined £5,400 in January for throwing water at an official during the Australian Open.
Tournament director Chris Kermode said the judge received first-aid care but needed no further treatment after seeing a doctor.
© Copyright IBTimes 2023. All rights reserved.