The black Labrador who has been catapulted into internet stardom after chasing a herd of deer in Richmond Park is actually called Fenton, not Benton as previously thought.
Twitter users flooded the social networking site yesterday with the '#benton' hashtag, after the video, which shows the dog's owner screaming 'Jesus Christ Fenton' as the dog terrorised deer, was publicised by Radio One DJ Fearne Cotton.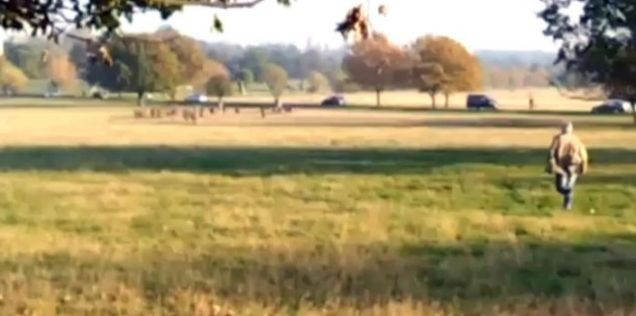 The video of Labrador shenanagans, which has received over 700,000 views on YouTube and has spawned many parodies, shows the owner running after Fenton, desperately trying to control the black Labrador as it chases a herd of deer towards a road.
The Telegraph reported on Wednesday that the clip was filmed on a mobile phone by 13-year-old Jake Goodyear who was visiting the south-west London park last Sunday with his father Ali, 37. The 13-year-old told the newspaper that the dog is actually called Fenton.
"We were filming the deer and all of a sudden this man came from behind us and was agitated to say the least because he had lost control of his dog...It was 500 metres in front of him and he had a mission ahead of him. I don't know if there was a happy ending because he ran off into the distance." Jake told the Telegraph on Tuesday.
Parodies of the video have appeared on YouTube by the dozen, with users dubbing the audio of Fenton's owner shouting over scenes from 'The Lion King', 'An American Werewolf in London', 'Star Wars', Jurassic Park' and the video game 'Skyrim'.
Reports have since suggested that Richmond Park should be investigated for allowing dog owners to let their pets off the lead, as the stampeding deer could easily have caused an accident as they crossed the road.
Assistant manager of Richmond Park, Adam Curtis, told the Telegraph: "It is the legal responsibility of owners to keep their dogs under control at all times and to do so they must know the temperament of their pet.
"Incidents like this endanger and traumatise deer but as the video demonstrates they also place other users of the parks, such as motorists, in danger."
If you know who the owner of Fenton is, please contact the IBTimes on 020 7718 8585