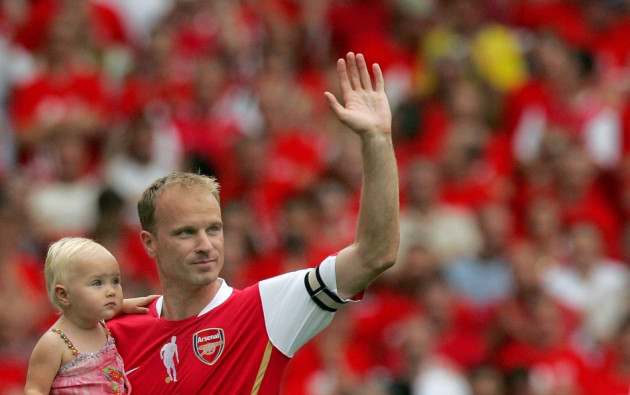 Dennis Bergkamp has publically criticised Arsenal manager Arsene Wenger for his omission in the 2006 Champions League final against Barcelona.
In his latest autobiography, the former Dutch striker, who enjoyed 11 years with The Gunners and firmly established himself as a legend in north London, spoke of how his career was allowed to dwindle under Wenger.
Bergkamp was 37 and in his final season at Arsenal and admits he came to blows with Wenger regarding his limited involvement, which came to a head in the Champions League final against Barcelona, where the forward was a victim of Jens Lehmann's early red card.
"Not many times but it did happen [arguments with Wenger]," Bergkamp wrote. "But with respect: no swearing or name-calling. It would happen on the field when he told me I wasn't playing.
"Even late on, when I was 35 or 36, he would say: 'Do you still want to come to the game? Do you want to be on the bench?' And he'd leave the decision to me. I don't know what he was thinking.
"Of course I knew when I was 35 or 36 that I couldn't play every game. But within yourself you think you can.
"The arguments we had were only about those sorts of football-related things. Me playing or not playing. It was very childish, but it came from the heart - from both of us.
"Arsène was disappointed as well; I think he had a different scenario in his head [for the final].
"You know, just to give me those minutes in the final. We had that sort of relationship in the end.
"It was somehow you're building up and up and getting all the trophies and getting personal success and in the end you get to the Champions League final at last. Jeez! If only I'd been five years younger! But that was probably the most we could have hoped for.
"The team wasn't what it had been two years earlier. We weren't the favourites. We could have won, though. I wish there was something more in it, but we were happy with that. And I was happy with that moment."
Despite Sol Campbell giving 10-man Arsenal a first-half lead in Paris, late goals from Samuel Eto'o and Juliano Belletti saw Barcelona claim their second European Cup in dramatic style.
Notwithstanding his resentment towards Wenger, Bergkamp is one of the most cherished and lauded players in Arsenal's history, while he remains one of the Premier League's finest foreign imports.