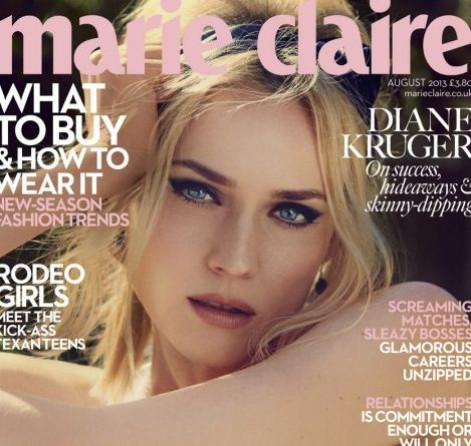 German actress Diane Kruger looked stunning as she graced the cover of Marie Claire UK's August 2013 issue.
In the accompanying interview, the 36-year-old National Treasure actress talked about her personal life and career.
Kruger is in a relationship with Canadian-American actor Joshua Jackson for more than seven years and the two are currently live together in Los Angeles.
"All relationships are hard. It doesn't matter what job you have, or how famous or miserable or poor you are. It's about commitment. The hard part is the timing. When you meet someone, are you ready to make them your number-one priority? I'm grateful that I met a person who feels the same not just about me, but about our relationship," she told to the magazine.
Kruger who will be seen in upcoming American police drama The Bridge, which debuts on the FX channel on 10 July, revealed that she had thought she achieved all till her 30th birthday.
"For a long time I felt that I was so accomplished, 'Oh I speak three languages, I travel the world, I've seen so many things.' But when I turned 30 I realized I was an idiot. I didn't know shit about anything," she said.
She told Marie Claire UK about her thoughts on the film industry.
"You can be as cynical as you want about filmmaking or fashion, but at the end of the day fashion makes people dream, it makes women look beautiful, and it can be a wonderful creative outlet," Kruger added.