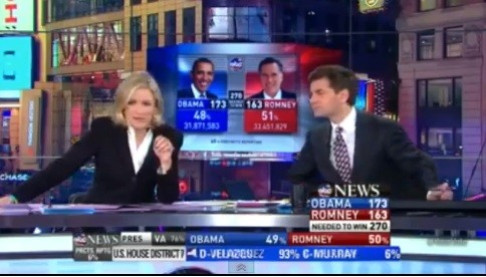 ABC's veteran anchor Diane Sawyer is at the centre of a Twitter storm today following claims she was drunk during her live coverage on election night.
Critics have accused the host, who covered the President's Obama's re-election with co-anchor George Stephanopoulos, of being "tipsy" and "hammered" on one of America's most important nights.
They claim that throughout the broadcast Sawyer appeared distracted, stumbled over her words, spoke unusually loudly and exhibited some bizarre behaviour.
In a two-minute clip that has gone viral, she "spoke more slowly than usual while seeming to prop herself on outstretched arms at the anchor desk." The Associated Press reported.
At one point she says: "OK. I wanna - can we have our music, because this is another big one here? Minnesota, we're ready to project Minnesota, rrright now. ... Well, tonight we know that President Barack has won Minnesota."
Viewers and celebrities alike quickly took to social media to criticise and poke fun at the allegedly drunken host.
While some made light of the situation, others suggested that it was a stunt by the network to boost ratings.
Josh Groban tweeted, "I'll have what Diane Sawyer is having."
Ricki Lake wrote: "And Diane Sawyer declares tonight's winner is... chardonnay!"
Sawyer has since become a trending topic on Twitter, with the Twitter handle @DrnkDianeSawyer, set up to mock her.
One tweet from the account said: "nothig to c here guys im ok d'ont worry abot me."
An ABC spokesman declined to comment.
Was Diane Sawyer really drunk? Watch the video and decide for yourself...