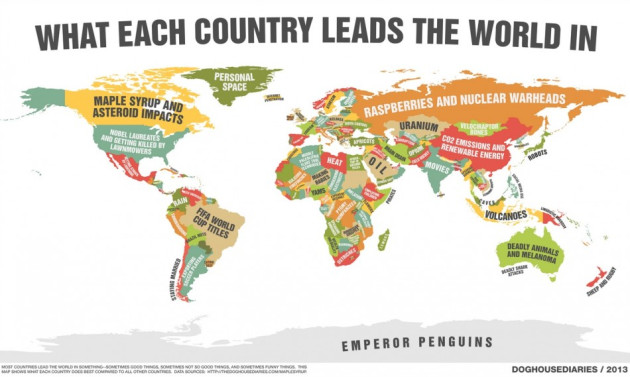 The US is mainly famous for people getting killed by lawnmowers and Nobel laureates while the UK is a hotbed of fascist movements, a spoof map has shown.
A group of web comics created the global map showing what countries are known for.
Creator DogHouse Diaries explains: "Most countries lead the world in something - sometimes good things, sometimes not so good things, and sometimes funny things. This map shows what each country does best compared to all other countries."
The group, based in Washington DC, gathered data online to reach the conclusion that Canada is best known for its maple syrup and asteroid impacts, while Russia is synonymous with raspberries and nuclear warheads.
Australia is most famous for its deadly animals and melanoma, while its south coast has lots of deadly shark attacks, the map says.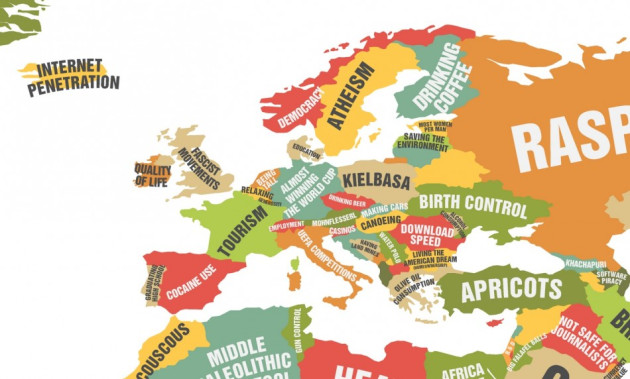 The whole of the south pole is made up entirely of emperor penguins, while Indonesia is mainly volcanoes. China is associated with CO2 emissions and renewable energy, while Mongolia is known for velociraptor bones.
Mexico is not known for any of its regular stereotypes, such as piñatas, sombreros and burritos. Instead, DogHouse Diaries say their evidence has shown it is the country best recognised for getting struck by lightning.
Costa Rica is associated with happiness, while its next door neighbour Panama is best known for being defenceless.
In Europe, France is associated with tourism, Spain with cocaine use and Germany with "almost winning with World Cup".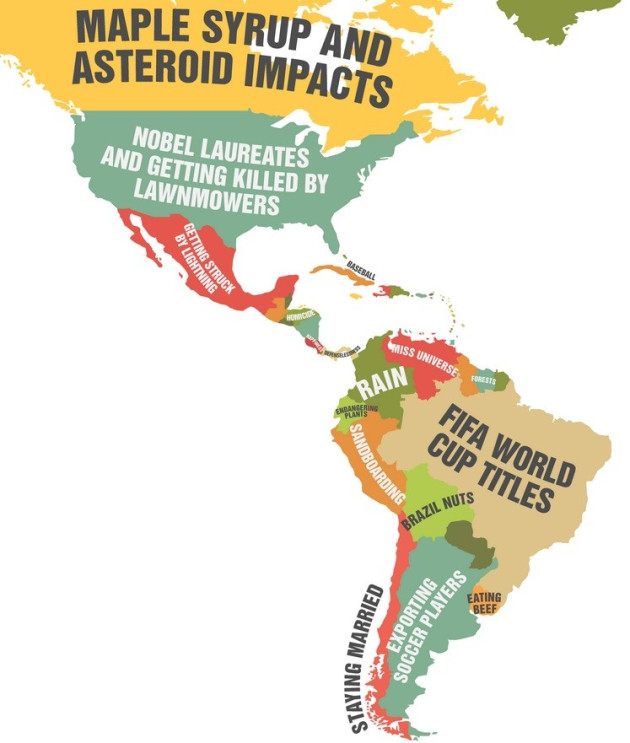 Further south in Africa, the Democratic Republic of Congo is famous for pygmy chimpanzees, South Africa for ostriches and Morocco for couscous.
Some people found the map offensive, with many complaining of the group's sources and accusing them of getting the map wrong.
One Facebook user said: "For USA, Nobel laureates and getting killed by lawnmowers? You should say capitalism and ruling the whole world."
Responding to criticism, DogHouse Diaries said: "We didn't have an agenda with this map besides revealing interesting things about different countries. If you provide sources for replacements, we'll make the necessary corrections."