Republican presidential nominee Donald Trump reportedly suggested that a football quarterback of dual heritage - who sat out the US national anthem as part of a Black Lives Matter protest - should "find another country" on Monday (29 August).
San Francisco 49ers quarterback Colin Kaepernick refused to stand during the traditional singing of the national anthem last week during a preseason game against Wisconsin's Green Bay Packers.
"I am not going to stand up to show pride in a flag for a country that oppresses black people and people of colour," Kaepernick explained after the game. "To me, this is bigger than football and it would be selfish on my part to look the other way.
"There are bodies in the street and people getting paid leave and getting away with murder," he added referring to a troubling number of recent police shootings of black men.
Asked on a KIRO radio program in Seattle about Kaepernick's action and his explanation, Trump responded: "I think it's a terrible thing. You know, maybe he should find a country that works better for him. Let him try, it's not gonna happen."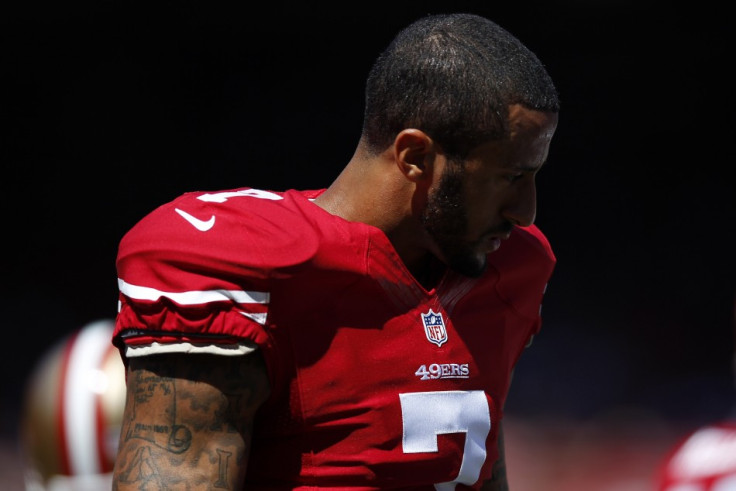 Kaepernick's team was a bit more forgiving, recognising that the anthem is an opportunity to "reflect on the great liberties we are afforded as its citizens."
The 49ers' statement added: "In respecting such American principles as freedom of religion and freedom of expression, we recognise the right of an individual to choose and participate, or not, in our celebration of the national anthem." However, Kaepernick is receiving criticism from other football players.
"It's hard for me, because my brother was a Marine, and he lost a lot of friends," Minnesota Vikings guard Alex Boone told USA Today. "That flag obviously gives [Kaepernick] the right to do whatever he wants. I understand it.
"But should have some respect for people who served, especially people who lost their life to protect our freedom."
Kaepernick's protest has caused the media to take a second look at the anthem. CNN noted that beloved baseball star and the first black man to take the field in a major league game, Jackie Robinson wrote in his 1972 biography: "I cannot stand and sing the anthem. I cannot salute the flag. I know that I am a black man in a white world."
The Star-Spangled Banner was written by Francis Scott Key in 1814 about the American victory over the British at the Battle of Fort McHenry. Key was a slave owner and once referred to black people as a "distinct and inferior race."
Part of the lyrics in the third verse of the anthem (only the first is ever sung at events) refers to slaves. Some interpret the lyrics to be Key's gloating over the death of slaves who fought with the British.
American athletes' protests against the anthem and the US flag are hardly unheard of. Besides Robinson's stance, American Olympic runners Tommie Smith and John Carlos raised their fists in a black power salute during a medal ceremony at the 1968 Olympics in Mexico City as the anthem was playing. Other NFL players have also protested the anthem.