NFL quarterback Colin Kaepernick defends sitting during national anthem
San Fransisco 49er quarterback accuses the US of oppressing people of colour.
Colin Kaepernick has sparked controversy by refusing to stand for the national anthem ahead of a match against the Green Bay Packers on Friday. Kaepernick, 28, defended his decision not to stand, stating that he will not "show pride in a flag for a country that oppresses black people and people of colour."
The NFL San Fransisco 49ers quarterback has been widely criticised by fans, journalists and politicians who said the gesture was disrespectful. Kaepernick, 28, however, told the NFL after the game: "To me, this is bigger than football and it would be selfish on my part to look the other way.
"There are bodies in the street and people getting paid leave and getting away with murder," he added.
The protest comes in the midst of the Black Lives Matter movement, which began as a result of high-profile cases of the deaths of black men at the hands of US police officers. The movement campaigns against what it calls the "systematic and intentional" oppression of black people.
Kaepernick said he realised the move would not be welcomed by all, but said he was not looking for approval.
He said: "I have to stand up for people that are oppressed… If they take football away, my endorsements from me, I know that I stood up for what is right."
Though some reports have suggested discord between Kaepernick and the 49ers, having lost his starting place on the team, the club issued a statement in defence of the player, which said: "In respecting such American principles as freedom of religion and freedom of expression, we recognize the right of an individual to choose and participate, or not, in our celebration of the national anthem."
Kaepernick's coach, Chip Kelly reiterated the team's position, stating Kapernick's statement was "his right as a citizen", adding "it's not my right to tell him not to do something".
A number of US athletes, including Cleveland Cavaliers' basketball star LeBron James, have been vocal advocates of the Black Lives Matter movement. However, Kaepernick's protest is not the first to cause controversy.
In July a number of players in the Women's basketball league (WNBA) were fined for wearing T-shirts bearing the Black Lives Matter hashtag. The fines were eventually rescinded by the league after public outcry.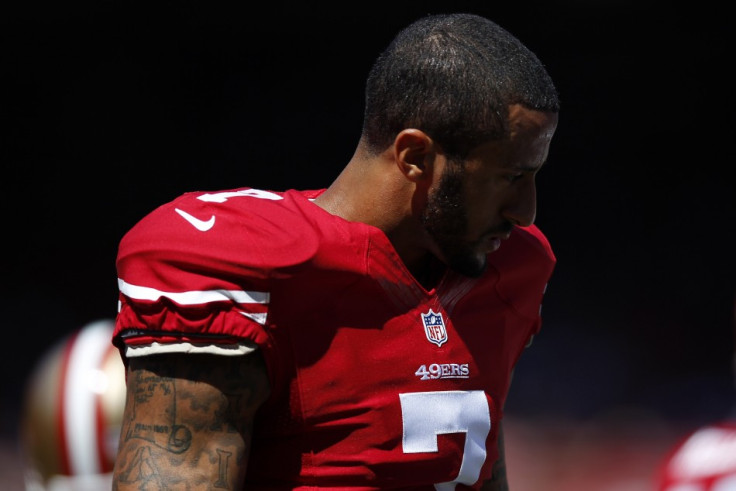 © Copyright IBTimes 2023. All rights reserved.