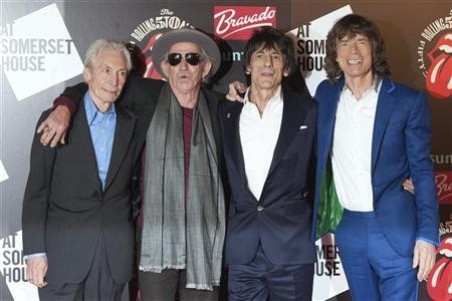 The Rolling Stones' first song in seven years has been greeted with rave reviews.
Doom and Gloom, released by the ageing rockers on 1 October to mark their 50th anniversary, has impressed fans and music critics.
The track, along with One Last Shot, is from their upcoming greatest hits album "GRRR!", which hits shelves on November 12.
While others claimed that the latest offering reminded them of the band's previous work, others said it had a fresh sound.
"Received music industry wisdom has it that new Rolling Stones material exists purely to flog compilation albums or tour tickets," wrote Dan Silver in the Mirror.
"It's with some relief that we report it's actually rather good."
He gave the single three out of five stars in his review.
NME wrote: "Keef's riffs are fresh as ever, Jagger yelps, claps and croons about getting hammered like he's still living it up down the LSE bar, and there's a Zep-tastic breakdown that thankfully stops the whole thing sounding too much like Primal Scream's Rocks - a concept that would launch music into an inescapable loop of influence as confusing as a bad time travel plot.'
"No, the first new Stones song in seven years is a revitalising reminder of what made them great in the first place, a tune that will sit seamlessly amongst their classics."
Mick Jagger, Keith Richards, Ron Wood and Charlie Watts are also preparing to release their Crossfire Hurricane documentary and a photobook in time for Christmas.
They will walk the red carpet at the London premiere of the film on 18 October.