A video from besieged eastern Aleppo has shown the moment a young girl, trapped beneath rubble following a deadly bomb attack, is rescued by the Syria Civil Defence, better known as the white helmets.
The footage shows the emergency workers breaking through a wall with a drill to access part of the five floor building blown to smithereens by pro-Assad bombs. At first nothing can be seen of the young girl, identified as Ghazal Qasim, covered in dust and trapped under huge pieces of rubble.
As White Helmets start removing the pieces of debris from around Ghazal she can be heard screaming violently. Her reaction when she is removed on an orange stretcher and touched on the leg would seem to imply it was broken.
As she is torn from the rubble, the pink tracksuit she was wearing at the time of the bombing can just be seen through the thick dust. With her eyes closed and her mouth slightly open Ghazal only moves to scream when she is knocked.
In images which have been uncomfortably familiar, as Ghazal is brought into the light of the outside world like Omran Daqneesh whose pictures shocked the world, she is as grey as the bombed-out buildings that surround her.
Activists have claimed in unconfirmed media reports that Ghazal was the sole survivor of the wreckage. The video of her rescue from the building lasts just under five minutes but the white helmets have said they were digging for four hours to rescue her.
A local activist alleged that bunker buster bombs were used in the attack to destroy buildings in Aleppo's al-Shaar neighbourhood on Tuesday 27 September.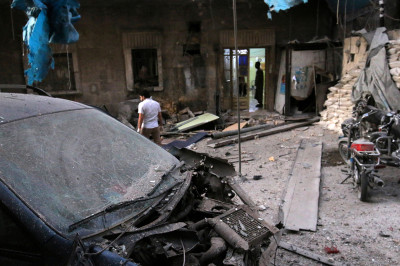 The video emerges as the international community and human rights groups condemn unprecedented violence in eastern Aleppo where the Syrian government and its Russian and Iranian backers appear to be pursuing an end game. In the aftermath of a seven-day-long ceasefire across Syria the Assad regime vowed that it would retake all territory lost over the course of the country's six-year civil war.
The UN's children's charity UNICEF has called the effect of the war in Aleppo on children as the worst seen since the conflict began. At least 96 children have been killed and 223 have been injured in Eastern Aleppo since Friday, UNICEF said.
"The children of Aleppo are trapped in a living nightmare," said UNICEF Deputy Executive Director Justin Forsyth said in a statement. "There are no words left to describe the suffering they are experiencing."
The health system in Eastern Aleppo is crumbling with some 30 doctors left, hardly any equipment or emergency medicine to treat the injured, and an ever-increasing number of trauma cases.