Following days of brutal bombardment across Aleppo, Syrian government forces have made gains in the city's historical centre, close to its iconic citadel.
The Syrian State broadcaster SANA reported government troops had captured the central district of Farafra and clashes were now ongoing in the historic centre of the contested city.
The cultural centre of Aleppo has been the backdrop to the to and fro of the city's bitter stalemate. Its Unesco world heritage site, the Umayyad Mosque, had its 11-Century minaret destroyed in the fighting in April 2013.
Surrounding historic sites and marketplaces have been left riddled with bullet holes and destroyed in the unrelenting conflict for control of Syria's former commercial hub and its most populous city before the start of the civil war in 2011.
"There was intense shelling earlier. It seemed the [government] was preparing for the attack," Ibrahim Alhaj, a member of the Syrian Civil Defence who are more commonly known as the White Helmets, was quoted by the AP as saying.
That news from the front would appear to suggest a large mobilisation of pro-government militias in the old city, Alhaj added. Reuters reported clashes in the Suweiqa area of the city, quoting a senior rebel official in an Aleppo-based faction. He added government forces had briefly taken over some positions there but were forced to withdraw.
The Associated Press reported that despite government advances in the wake of reinvigorated Syrian and Russian air assaults, gains have been difficult to consolidate. Government forces captured the Handarat area on the northern edge of Aleppo over the weekend, only to lose it hours later.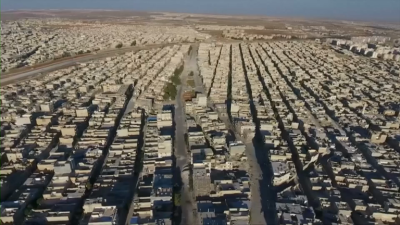 The Assad regime and its allies have looked with new ferocity to retake rebel-held eastern Aleppo after a ceasefire which lasted for seven days across Syria broke down.
Those districts still held by the amalgam of rebel-held forces have endured the worst aerial onslaught since the start of the war, with more than 200 people killed and several buildings flattened.
Video footage emerging from the carnage has appeared to show the use of incendiary munitions over the urban areas populated by civilians. Activists have claimed videos showing bright white light emanating from the sites of the explosions has shown the use of white phosphorous by the pro-Assad warplanes.
The World Health Organization (WHO) has called for dozens of sick and wounded in the area to be evacuated through safe corridors for treatment, in the wake of the assault.
The international medical organisation has said only 35 doctors remained to care for at least 250,000 people.
"WHO is calling for the immediate establishment of humanitarian routes to evacuate sick and wounded from the eastern part of the city," WHO spokeswoman Fadela Chaib told a news briefing in Geneva.
"We are talking about only 35 doctors left in east Aleppo to take care of hundreds of wounded people, and the number is increasing," she added.