Delvan crossed the English Channel on his way to Britain hidden in a coffin. Before that he was the sole survivor of a shipwreck in the Aegean Sea, where all 14 of his companions making the dangerous journey from Turkey drowned. He recalls these events with the cool detachment of an observer. But words start to fail him when it comes to his home in Aleppo. It is only when the subject of the city he left behind and could not defend is raised that his voice cracks and tears fill the edges of his eyes.
Aleppo, Syria's largest city before the start of the civil war that has decimated its population, has been battered by more than four years of bombing and street fighting.
In the wake of a rebel counteroffensive in July 2016, Russian and Syrian warplanes have increased their bombardment of the besieged city. Hundreds are killed each week and whole neighbourhoods lie in ruins.
When Delvan thinks of what has become of the city he grew up in he says he burns inside. "Nobody can handle this thing," he said. "You see your corner, your memories. It is not about places, it is not about the stones or buildings, it is about memories. Every stone you have a memory, every place you have memories with. When I see how Aleppo is after the bombing I burn inside, I burn inside because I saw my street, my home, my city destroyed, people killed and I can't do anything."
Before he became a revolutionary and then a citizen journalist, before war in its many guises came to the majority Kurdish neighbourhood of Ashrafiya he called home – shooting in the streets, sniper corridors, mortar fire and finally regime bombs – Delvan was an economics student and worked in a mobile phone repair shop.
Now 27-years-old – 23 at the outbreak of war in Aleppo – Delvan looks back through the fog of the recent past to times at work, study and long weekends with family.
His family – parents, four brothers and one sister – all lived under the same roof. The eight of them would divide their time between Aleppo and the northern Kurdish village of al-Khalil, their ancestral home just outside Afreen city 38 miles to the north-west for Aleppo, where Delvan's father made olive oil and where a river runs through the fields they once called their farm. "It was a good place, a good life," Delvan recalled.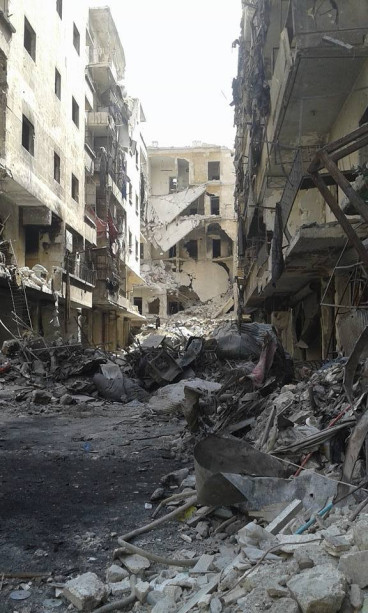 In Aleppo, Delvan would seek out visitors to the cosmopolitan city from Japan, the Netherlands, Britain and elsewhere. "My friends," Delvan said with a generous smile. Together with his neighbours he would drink tea with the foreigners and eat foul, a heavy Middle Eastern dish made with fava beans, at his favourite restaurant near Aleppo's historic citadel.
That existence was shattered as the revolution made its way from Dera'a in southern Syria, where it started, to Aleppo and then Ashrafiya. The family was forced to flee the city when a mortar round devastated their home.
Every member of his family, with the exception of Delvan, was inside when the missile struck. They survived but were forced to flee. Delvan, who was already being hunted by the regime for filming and uploading footage of protests in Aleppo, had to spend each night in the apartment of a different activist. He continues to receives regular updates from his former neighbour about the state of Ashrafiya. The house has since been destroyed.
The rage Delvan feels over the destruction of his city is matched by his sense of loss for a revolution he believes was hijacked. He explained that he felt hopelessness when the opposition began to fragment and left in March 2015. "I want to be responsible. It is my city. I don't want to fail this city. Our people need help. I should be there but this city has nothing in it at all – it's too much – enough."
Another suburb, another tragedy
Aleppo has been locked in a bitter and bloody stalemate for four years. Its suburb Manbij in Aleppo Province has changed hands three times over the course of the civil war. It was held first by the Free Syrian Army, then Islamic State and now is under the control of the SDF – the Syrian Democratic Forces.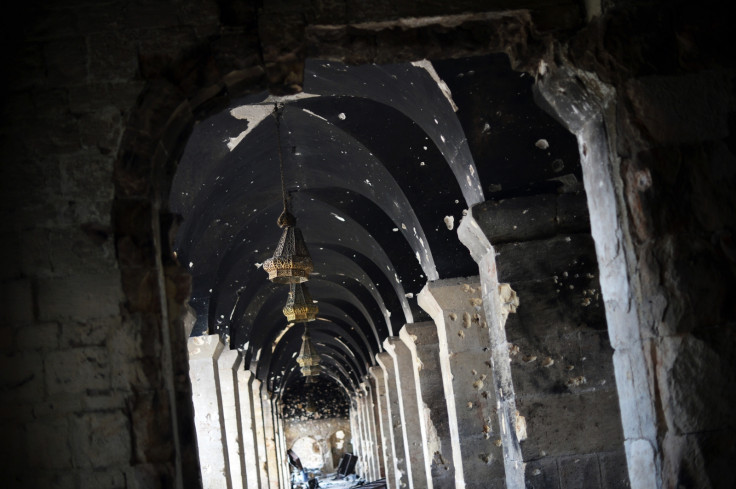 Hussein Abu Issam fled the area with his family. He was running away from not just the IS, which took hold of Manbij in January 2014, but also an impending battle between Isis and the SDF – an amalgam of Kurdish and Arab fighters backed by the US.
He was smuggled out of the town en route to Manchester three months ago with his wife, two daughters and their son as the SDF encircled the city. A relative recently told him that a group of Kurdish fighters has taken up residence in his home and looted the family's possessions.
"[The Syrian people] were optimistic that Bashar (President al-Assad) might be better than his father, but he unfortunately turned out to be worse."
- Hussein Abu Issam
Issam, a maths teacher in Aleppo, described how the country's economic powerhouse, a city of culture and beauty, became a backdrop for a revolution, staging anti-regime protests and finally war.
"We expected that people will be killed, because in 1982, there was killing and similar actions , but there were no internet or media, so no one knew about the people killed in those days.
"[The Syrian people] were optimistic that Bashar (President al-Assad) might be better than his father, but he unfortunately turned out to be worse."
Now, Issam's concern is for his family left behind in Aleppo province. "When Daesh came in, they repressed us very badly, so we had to run away out of Syria, as we may get killed anytime," he explained using an Arabic acronym to describe the IS.
"Currently, I feel scared for [my family]," he added. "Living under attack with all the war strikes over you is different from living far away. I always feel worry about them."