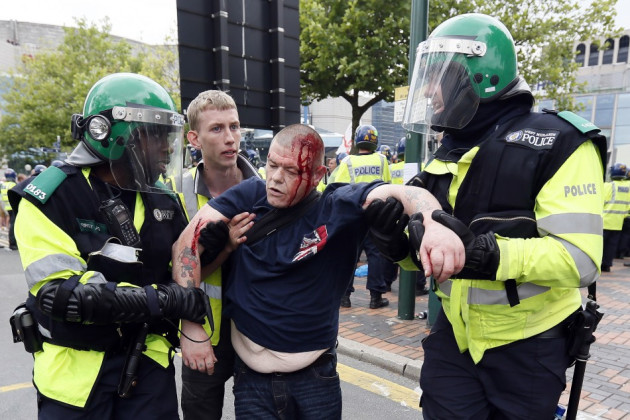 Protesters have been injured and a police officer hospitalised with concussion after police and far-right demonstrators clashed at an English Defence League (EDL) rally in Birmingham.
Hundreds of EDL supporters gathered in the city's Centenary Square on Saturday, with Unite Against Fascism members forming a counter-protest in nearby Chamberlain Square.
Soon after EDL leader Tommy Robinson began his speech to the crowd, protesters started tussling with police, with some pulling down fences around a new University of Birmingham construction site and hurling smashed cobble-stones and bottles at officers.
Several protesters were seen with blood pouring from their heads after police equipped with riot gear and armed with batons confronted the crowd.
"Police injured, Broad St bar doors smashed, building site materials thrown at police, shops closed, work lost. Another peaceful EDL protest," tweeted Birmingham Labour MP Ian Austin.
West Midlands Police said that four arrests had been made and that 1,000 extra officers had been drafted in before the demonstration to help cope with any disorder.
The EDL said they were marching for the reintroduction of CCTV cameras in the Washwood Heath and Sparkbrook areas of the city. The cameras were originally installed as a counter-terrorism measure, but removed in 2011.