A 29-year-old Hawaiian says he is willing to risk everything by going public as the whistleblower behind the largest leak in the history of the National Security Agency (NSA).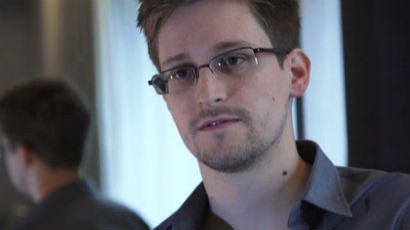 Edward Snowden has voluntarily come forward as the person who leaked the documents to the Guardian newspaper last week which detailed the PRISM programme which the National Security Agency uses to monitor data from major technology companies like Apple, Google, Microsoft and Facebook.
Snowden is a former technical adviser for the CIA and has been working for the past four years at the NSA, employed by several outside contractors including his current employer defence contractor Booz Allen Hamilton.
Snowden told the Guardian newspaper in a videoed interview that he knew revealing his identity would draw attention from the public and the government, but isn't afraid of coming forward as he believes what he has done is the right thing:
"I have no intention of hiding who I am because I know I have done nothing wrong," he said.
Why did he do it
When asked why he decided to become a whistleblower, Snowden said: "The NSA has built an infrastructure that allows it to intercept almost everything. With this capability, the vast majority of human communications are automatically ingested without targeting. If I wanted to see your emails or your wife's phone, all I have to do is use intercepts. I can get your emails, passwords, phone records, credit cards."
The documents leaked last week revealed that for the past seven years the US government has been getting access to data stored on the servers of nine major technology companies including email, photos, videos and much more.
Reprehensible
Responding to the leak, Director of National Intelligence James Clapper called the leak and the decision by newspapers to publish them "reprehensible" and vowed to punish the person responsible.
Snowden lives in Hawaii with his girlfriend where he works at an NSA office. Three weeks ago Snowden finalised his plans to steal the documents leaked last week.
He told his superiors that he needed time off to have treatment for epilepsy, a condition he found out he suffered from last year. He told his girlfriend he had to leave for work reasons, and on the 20 May he boarded a flight to Hong Kong where he was been ever since.
He has left his hotel room on just three occasions and is very paranoid about being spied on, lining his hotel room door with pillows when he is on the phone and covering his laptop with a red hoodie when entering a password.
In danger
He chose Hong Kong because "they have a spirited commitment to free speech and the right of political dissent" and would resist overtures from the US government if they sought to extradite him, but even so, he knows he is in danger:
"Yes, I could be rendered by the CIA. I could have people come after me. Or any of the third-party partners. They work closely with a number of other nations. Or they could pay off the Triads. Any of their agents or assets," he said.
"We have got a CIA station just up the road - the consulate here in Hong Kong - and I am sure they are going to be busy for the next week. And that is a concern I will live with for the rest of my life, however long that happens to be."
Whistleblowers
As a whistleblower on this scale, Snowden joins the likes of Bradley Manning who is currently in court over his leaking of sensitive military documents to WikiLeaks, and Daniel Ellsberg, the whistleblower who revealed the Pentagon Papers in the 1970s about the US government during the Vietnam War.
Snowden says that by coming forward he hopes it won't detract from the debate about the actions of the US government:
"I really want the focus to be on these documents and the debate which I hope this will trigger among citizens around the globe about what kind of world we want to live in. My sole motive is to inform the public as to that which is done in their name and that which is done against them."
Since the documents came to light, it has been claimed that the UK's intelligence agency, GCHQ, has been using the system to monitor online activity.
However UK Foreign Secretary William Hague has since dismissed these claims as "fanciful nonsense" and that "law-abiding" citizens had "nothing to fear" from the intelligence services, adding that GCHQ's operations were subject to stringent legal checks.