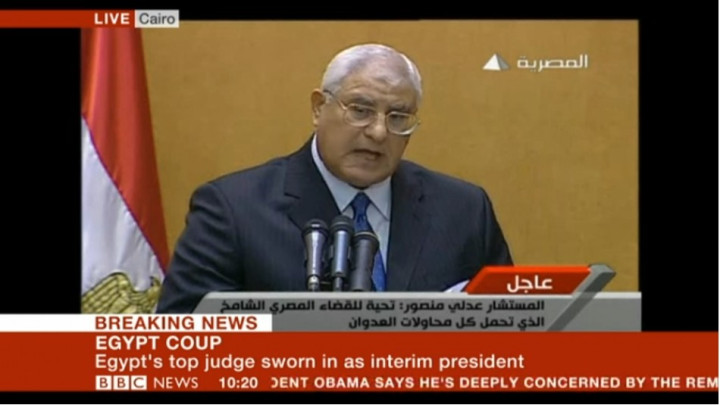 The head of Egypt's constitutional court has been sworn in as interim president after the military deposed Mohamed Morsi in the country's second revolution in two years.
Adli Mansour said during his swearing-in ceremony: "I was appointed by the great people of Egypt, who are the source of all powers and legitimacy, the leader and the master.
"June 30 corrected the path of the glorious revolution that began on January 25, 2011," he added. That revolution ultimately led to the toppling of dictator Honsi Mubarak.
Mansour thanked the Egyptian people. He asked demonstrators "to stay in the squares and keep an eye and watch out and protect the revolution".
As he spoke, fighter jets flew overhead, trailing smoke in the colours of the Egyptian flag.
"We are to end forever creating new tyrants and to worship none but God, no leader or politician," he said.
Egypt's Second Revolution: Military Raid Offices of Al-Jazeera and Close Three Pro-Morsi Stations
Obama Avoids Labelling Egypt's Second Revolution a Coup
Ousted Egyptian President Mohamed Morsi Held in Custody by Military
Egyptian Army Installs Interim President, Morsi Arrested