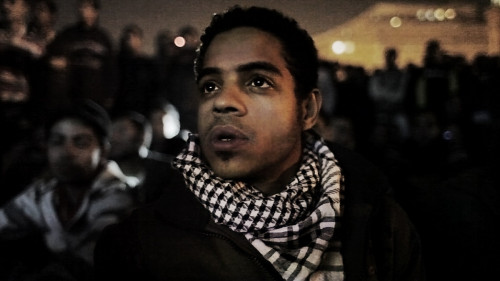 The Square, the first film about the current political turmoil in Egypt, has been nominated for an Academy Award.
The Netflix-backed film captures the Egyptian revolution from the viewpoint of three participants in the violent and bloody protests.
Over two-and-a-half years, the film tells the story of the 2011 uprising that ousted President Hosni Mubarak, who had ruled the country for nearly 30 years. The end of the film takes in the momentous ousting of Mohamed Morsi in 2013, who angered Egyptians by seizing even more powers than Mubarak.
Tens of thousands of people gathered in Tahrir Square, some reports putting the figures as high as 500,000.
Director Jehane Noujaim, an Egyptian-American, shows the effects of the protests through the eyes of three major characters. One, Magdy Ashour, belongs to the Muslim Brotherhood and finds himself caught between the party who want an Islamic state and the more secular protesters who are fighting corruption and the old regime.
When attacked by his more secular friends on how he can square his conscience with the Muslim Brotherhood, he shows them scars where he was electrocuted. "When they electrocute you, the blood freezes," he says.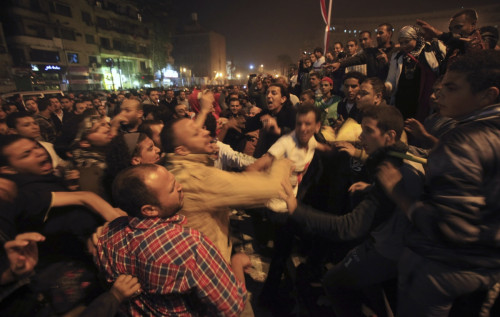 Another important character in the film is actor Khalid Abdalla, who starred in The Kite Runner and appears as a media spokesman for the cause. "The battle isn't just rocks and stones," says Khalid. "The battle is in the images, the battle is in the stories."
The power of social media comes to the fore, as the action in Tahrir Square documents police brutality with mobile phones and digital cameras, which are then uploaded to YouTube.
A startling observation by the protesters is that the world's international media are slow to cover the historic events taking place.
One of the most compelling stories is of Ahmed Hassan, a young idealist who is prepared to fight to the death for democracy in his country and put an end to the old regime.
"As long as there's a camera, the revolution will continue," he says. "It all started," he explains, because "Egypt was living without dignity, injustice was everywhere."
The film is available on Netflix and the 2014 Oscars will air live on 2 March.
Watch the movie trailer for The Square: