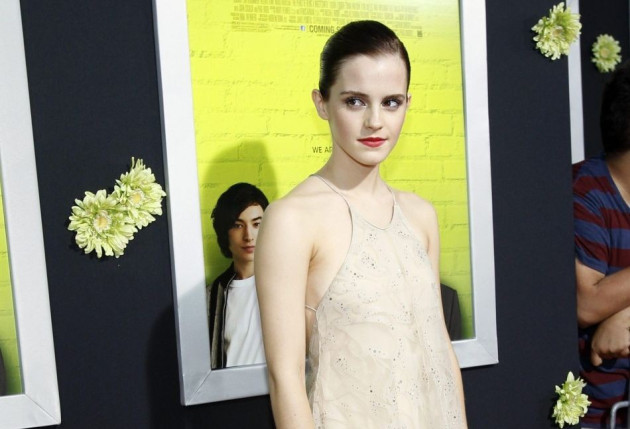 Harry Potter star Emma Watson suffered the indignity of a nip-slip moment during the Los Angeles premier of her new film The Perks of Being a Wallflower.
Watson looked gorgeous in a pale yellow off-shoulder Giorgio Armani gown, featuring long layers and scattered beading. The dress had a tiered skirt and cross-straps at the back. Unfortunately, while posing for the photographers, one side of the bodice dipped a little too low, revealing the pastie on one of her nipples. However, the gaffe was soon spotted and corrected.
The 22 year old Paris-born actress was all smiles on the day and appeared in a make-up free (or as little as possible) guide, with just a classic shade of red on her lips, dark eyeliner and slicked back hair.
Watson has spoken about wardrobe malfunctions at red carpet events before, most notably during Glamour magazine's October issue.
"Yeah, I have to [work with a stylist] at this point... and just practically, these gowns are ridiculous. You're being photographed from every angle, so not only do you have to consider how the thing looks, but whether you're going to be able to sit in it and whether people are going to be able to see up your skirt," she explained.
Her new film is based on Stephen Chbosky's best-selling novel of the same name and Watson plays the role of Sam. This is only her second film appearance since the conclusion of the wildly popular Harry Potter series of films, which established her as an actress and she hopes to grow onscreen from the character of Hermione Granger.
"I hope what they can see is that I am able to transform, that there are other sides of me that perhaps they haven't seen yet, and that they might allow me a little bit of room," she admitted, adding, "I mean, just doing American really is different. People have said to me that they keep forgetting it's me when they see the movie, which for me is more than enough. That's a success in itself for me, really."
The young actress also dismissed talk of being cast in the film adaptation of EL James' Fifty Shades of Grey.
"I haven't read the book yet so I don't know what I would be signing myself up for," she said, "But it's always flattering to be considered for roles and to be in the mix for things."
Finally, the Harry Potter star also responded to news she is "the most dangerous celebrity" on the Internet - nearly one in eight searches containing her name lead to malicious Web sites.
"Apparently I'm 'dangerous!'" she tweeted, "I can't do anything to stop these people so please take care and only go to official sources."
Perks of Being a Wallflower will hit cinemas worldwide on 21 September.