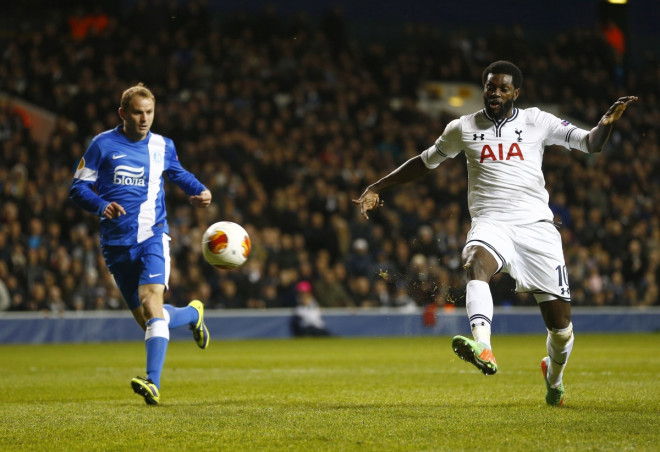 Tottenham striker Emmanuel Adebayor has revealed that his team does not need any extra motivation to perform against Arsenal.
The north London club come into the game at White hart Lane on the back of harrowing defeats at the hands of Chelsea at Stamford Bridge where they lost 4-0 to some suicidal defending and followed that up with a 3-1 battering at the hands of Benfica at home. Spurs are currently six points behind Liverpool, having played a game and badly need a win.
Spurs have already lost twice to Arsenal at the Emirates and will be looking to use this game as a springboard towards ending the season on a high note. The Gunners have used this fixture as a means to overcome their woes and have been highly successful in their efforts.
In the 2011/12 season, a 5-2 win at the Emirates saw the Gunners overcome a 10-point deficit to finish in the third position while in the previous season, their fate was transformed following their loss to Spurs at the Lane.
Emmanuel Adebayor is hoping that they can use Arsenal's example to revive their top four hopes and outdo Liverpool, who travel to Manchester United earlier in the day.
"On Sunday I don't even think we will need a team meeting. There are some games where you have to give a little bit of motivation to the players. But we know how good we are at home when it comes to Arsenal and we won't have to motivate anybody for this game," Adebayor said.
"The is the game that everybody will be talking about in London from this point.
"So I cannot see anybody telling me, 'Manu, you have to run. You have to give 100 per cent'.
"No one will need to tell me that. I know. And people like Aaron Lennon, who has been here for ages, you won't have to tell players like him anything either. He knows how big it is for the club and the fans. To be honest with you, we are all looking forward to it," he concluded.