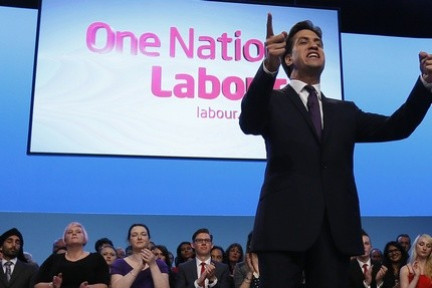 It May seem a lot longer, particularly to David Cameron, but it has been exactly a month since Labour leader Ed Miliband made his game-changing party conference speech which included his pledge to freeze energy prices if elected in 2015. In the weeks that have followed, the issue has dominated the political agenda and seen the prime minister repeatedly thrown onto the back foot as he has struggled to combat Miliband's policy coup.
This is how the energy crisis unfolded.
24 September: Ed Miliband tells his party conference in Brighton: "I am not willing to just stand by. So the next Labour government will freeze gas and electricity prices until the start of 2017."
25 September: The Tories warn the scheme is "sleight of hand" because Miliband could not stop companies increasing prices before and after the freeze. Energy companies warn the lights could go out as a result. The prime minister reminds people he moved to force the power companies to put everyone on the lowest possible tariff.
2 October: David Cameron tells his annual conference in Manchester that Labour is offering "1970s style socialism" but does not offer a specific policy on energy prices.
9 October: In the first Prime Minister's Question Time since the conference season, Cameron declares Miliband wants to live in a "Marxist Universe" with the state controlling prices.
10 October: SSE becomes the first of the "Big Six" energy companies to hike bills by more than 8%.
17 October: British Gas follows suit with a rise of up to 10%. As Labour claims it underlines the need for their policy to help those facing "heat or eat" choices, Cameron says the decision is "disappointing" and urges consumers to swap suppliers.
18 October: A row erupts over whether ministers and the prime minister's spokesman were suggesting people should wear jumpers at home in the cold weather.
19 October: Archbishop of Canterbury Justin Welby tells the Mail on Sunday the energy prices rises are a "huge moral issue" and calls on the energy companies to: "behave with generosity and not merely to maximise opportunity".
21 October: Npower becomes the third of the "Big Six" to increase prices up to 11% for gas. The prime minister's spokesman says Cameron understands consumers' anger and again urges them to swap suppliers and insists the government is introducing competition into the market.
Also: The government announces French-Chinese state owned industries will build the first new nuclear power station in the UK for a generation but guarantees the consortium a minimum unit price for 35 years of double the current price for energy. Ministers try not to use the word "subsidy". Labour says, Cameron can fix prices for 35 years but Miliband is attacked for offering a 20 month freeze.
22 October: Former Tory Prime Minister Sir John Major drops a bombshell telling political journalists the government should impose a windfall tax on the companies' excessive profits, in order to fund increases in cold weather benefits.
23 October: Cameron is soundly beaten by Miliband in a PMQs session dominated by the row and Sir John's intervention. He promises he will "roll back" green levies which account for 9% of energy bills. Deputy Prime Minister Nick Clegg seems surprised.
24 October: It emerges Deputy Prime Minister Nick Clegg only knew of Cameron's wheeze about 30 minutes before PMQs. Neither government ministers, energy companies or the green industry knew anything about the plan.
The prime minister's spokesman confirms there will be announcements about the "roll back" in Chancellor George Osborne's autumn statement on 4 December and hints it might mean switching the green levies from energy bills to general taxation. So the taxpayer still pays.
Asked if Cameron still believes his is "the greenest government ever" he replies: "Yes, the greenest government ever."
It comes as absolutely no surprise to anyone when Scottish Power announces it is joining the price rise club with a hike of 8.6%.
And that is it so far. But rest assured this is far from the end of this story.