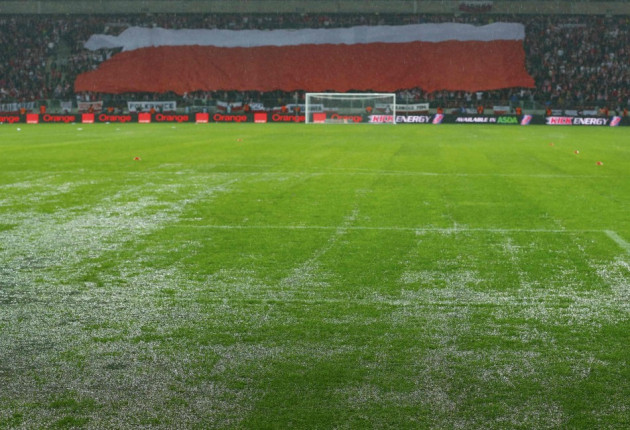 England manager Roy Hodgson has warned observers it is unlikely the Poland - England World Cup qualifier will be played on Wednesday evening, unless pitch conditions improve drastically.
The Group H match between the two nations was originally scheduled to be played on Tuesday evening but a torrential spell of rain prior to kick-off meant the pitch was flooded and unsafe to play on.
After consultation between match referee Gianluca Rochhi and FIFA delegate Danijel Jost, the match was abandoned and re-scheduled for 4pm local time (5pm BST). However Hodgson remains sceptical of the possibility of the match being completed at the second time of asking.
The pitch is in a very poor condition," Hodgson explained, adding: "The water is laying on the surface and it will need a lot of attention if we are going to play. The referee was very conscious that he wasn't going to allow a game to go on if the safety of the players was in danger."
Furious England Fans
Meanwhile, the travelling England fans were considerably less than impressed at what they believed was poor organisation, planning and care for their schedules.
"It was appalling. They had the big screen suspended above the pitch, and the only announcement that came was that there would be an announcement at 9.45 pm (local time)," Mark Perryman, from the London England Fans' Group, told Goal.com.
"There was virtually no communication. I mean, it was a bit difficult because the fans were making a lot of noise so you couldn't really hear the announcement, but as far as I could hear there was only one on the screen, which was an appalling way to treat the fans.
"I've got to say, I don't think we should get on our moral high-horse because Wembley hasn't even got a roof. It does seem strange though. Why the roof wasn't pulled across as a precaution I don't know. I don't know enough about the technological side of stadium roofs, but it just seems inexplicable that if they've got the facility, why not use it?"
Stadium Officials Defend Themselves
Meanwhile, in part answer to questions raised by Perryman and other observers of the non-deployment of the retractable roof, a spokesperson for the management of the National Stadium blamed the absence of Jost, the FIFA delegate, and operational procedures, for failing to close the roof.
"It takes 15 minutes to close the roof, but we cannot do it in temperatures below zero, in high wind, or while it is wet," the spokesman explained, adding, "If we closed it while it was wet, the roof could fall. It would be dangerous. We're not able to make the decision to close the roof without the presence of the Fifa match delegate. He did not arrive at the stadium until 7pm, by which time it was raining."