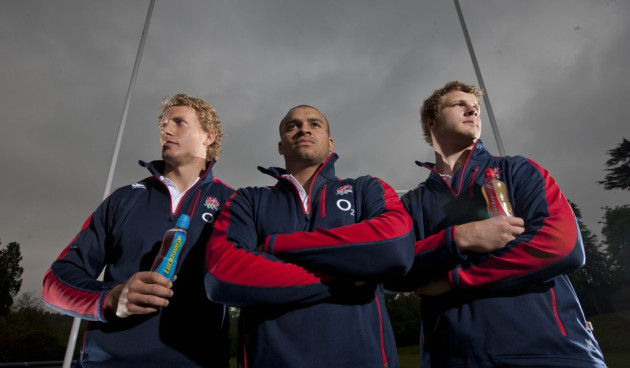 Never a day goes by when the self-professing alpha male doesn't accept a ridiculously senseless challenge in order to satisfy his own ego. Of course I can down that pint while dancing to Def Leppard, yes I can eat this burger while swimming, just watch me ride this cow.
I was too handed such a dilemma last week, upon being invited to a Lucozade hydration test event with England rugby internationals Joe Launchbury, Billy Twelvetrees and Jonathan Joseph. A training session followed by a game of touch rugby; where do I sign?
Weighing in at 12 ½ stone and with a 5km personal best of 22 minutes and 40 seconds, the proposition of facing fellow journalists and public relations officers, which if my experience of the manner in which complimentary nourishment is hovered up at press events is anything to go by, was filling me with anything but fear.
I arrived at Pennyhill Park - a setting which the Rugby Football Union feels sits adequately outside the real world of the recession - in buoyant mood; a smugness which was later replaced by regret, self-loathing and pain.
I quickly realised that not only were those fellow competitors not of the plumped variety that I'm normally accustomed to in press boxes up and down the country, but we were being trained by England strength and conditioning coach Dave Silvester. Bloody nice chap as you can expect.
While recent rugby experience, and thus the fitness required to play the sport, was evident in a number of the attendees, with experience ranging from semi-professional to university level, I quickly established that being 11 years removed from my last outing with a rugby ball I was among the least qualified for the task at hand.
The initial training drills were a resounding thump down to earth. Team building exercises coupled with individual drills with the ball in hand. Ladders were danced through; training bags were launched across fields and there were press ups. Lots of press ups.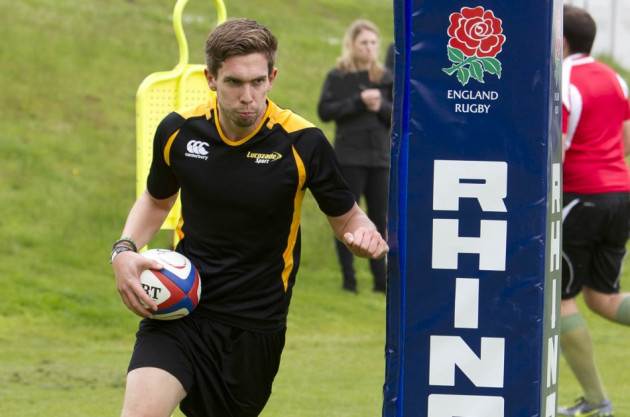 The drills were entwined with rehydration sessions, with Lucozade predictably prescribed in order to replace the sweat we'd had lost during training. The testing program was to discover whether we were adequately replacing the electrolytes we were losing through sweat.
However overly scientific having a drink may have sounded, it was certainly doing the trick with two training drills remaining. The penultimate activity involved an estimated (I didn't take time out to flick through the iron plates) 50kg being dragged up and down a full sized rugby pitch; teams of five, 20 yards each.
It was a truly brutal 'exercise'. We finished with a tackle bag drill which was exactly what it said on the tin, which was apt, as the 5ft bags began to represent non-corrosive slabs of metal by the second or third round of tackles.
We ended with a game of sevens style touch rugby with messieurs Launchbury, Twelvetrees and Joseph, for whom the game was merely a brief jog, with the sweat continuing to race down our brows.
Anything but full pace, but you could appreciate the trio's precision up close. Joseph gathering in my wayward passes with merely his forefinger, Twelvetrees spotting the gaps and Launchbury, well, sevens isn't really his thing.
Naturally, the group are absolutely spent by the time play is called to a halt and it begs the question; how do rugby players do it?
Every sport is accompanied by a stereotypical body-shape. Runners are traditionally thin and lean and swimmers broad and toned. Rugby players take on all different forms of physical appearance and yet have underlining core strength and fitness. Only the power of genetics can explain such a sporting anomaly.
Even for the untrained, it would explain why the equivalent to a basic pre-match warm-up had us uttering our one last wish, not least justify why for the following two days I was resigned to being horizontal in bed cursing my parents' gene pool. It was a challenge my ego dealt with more than adequately.
Joe Launchbury, Jonathan Joseph and Billy Twelvetrees are representing England Rugby, who are fuelled by Lucozade Sport. Lucozade Sport Fuels and Hydrates you better than water. For more information visit www.lucozadesport.com