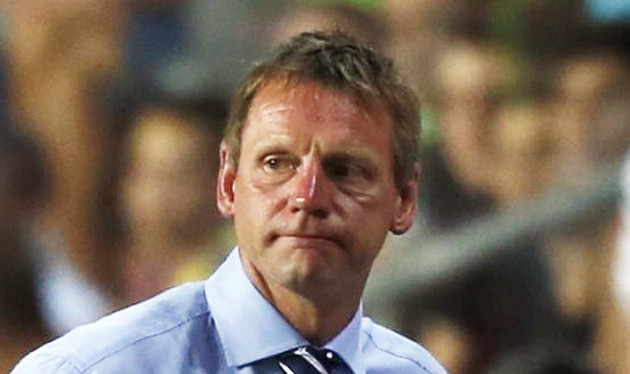 Despite his best efforts to deflect criticism, England Under-21 manager Stuart Pearce will have awoken to obituaries regarding his managerial career after his side's third successive defeat in the European Championship group stage to hosts Israel.
After nine consecutive wins, Pearce's team were expected to sweep aside all before them, and were among the contenders to claim their first title since 1984 as they possessed a much-hyped squad full of English football's brightest young talents.
But as is often the trend in major tournament football, England have flattered to deceive and return home with not only major concerns over Pearce's continued presence at the helm, but questions over the structure of the nation's game.
To start, you wonder why so much scrutiny is being devoted to a tournament which is yet to unequivocally convince as a genuine building block for Europe's finest talents. For every Andrea Pirlo, there is a Marcus Berg; for every Luis Figo, there is a Francesc Arnau; evidence of the grave inconsistency attached to the title of the tournament's golden player.
And with the British and Irish Lions not beginning their test series in Australia for another 10 days, Wimbledon still a fortnight away, the Ashes starting in another month and the resumption of the Premier League a gargantuan eight weeks in the future, you could argue that complaints over the Under 21 football team are merely filling the time before the summer's main course.
Euro 2013 should never have been perceived as anything other than a side project on England's road to Brazil in 2014. You need only look at the low attendances for each group match and the lack of comprehensive media coverage for evidence that this tournament ranks someway below a typical Saturday afternoon in the Premier League. How these tournaments can therefore be regarded as the stepping stone is laughable; it's a significant step down.
What many critics have failed to grasp is that winning the competition is an irrelevant milestone during the development of these players. Germany, whose country's first team have profited most from their Under-21 side in recent times, can hardly attribute victory in 2009 to the reason behind the promotion of a handful of players to the World Cup squad the following year.
Those individuals, which included Mesut Ozil and Sami Khedira, had been nurtured in their homeland, gaining experience which assisted their success on the biggest stage of all. The Under-21 finals are an inferior competition.
Perhaps due to the lack of structure in the English international game, not least after close to half a century without a major success, England's selection follows the 'if you good enough, you're old enough' mantra.
Wayne Rooney, Theo Walcott and Jack Wilshere are among those to have all but missed the Under-21 boat entirely, to focus on their full England careers. The truth is, England's very best graduates are anything but products of the conventional international pathway.
It means that what England's Under-21 side actually represents is nothing more than a Premier League reserve side, and if the immediate promotion of the country's best players is any indication, with the odd exception, their international careers are dwindling before they've barely begun. So it's not criticism they deserve, it's sympathy.
Pearce has been quick to identify the absentees from his squad during Euro 2013 as one of the reasons behind his side's failure. The ex-Manchester City and Team GB boss might be an unambitious a managerial choice as any The Football Association could muster, but he is right to observe that all resources are pulled towards major tournaments every two years.
In short, England's policy is to throw everything into the height of international competition when the world is watching, instead of damaging the country's chances by forcing unrealistic demands upon players.
What were we arguing about again?