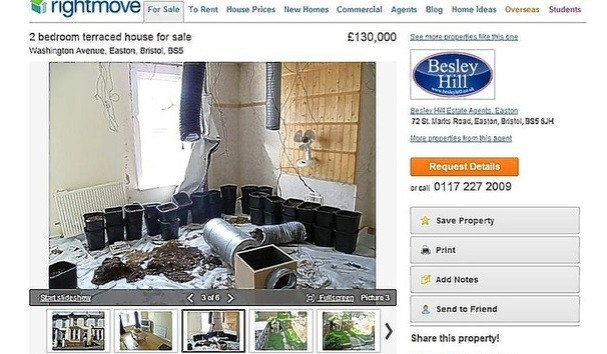 An estate agent has been forced to remove a photo from its website after it showed a cannabis factory inside one of its listed properties.
The photo of the drug factory was seen inside a house in Bristol and featured on the property website Rightmove.
The two-bedroom house in Easton, valued at £130,000, was described as a "Victorian style villa in need of refurbishment" and the website featured several photographs showing what the home was like inside.
However, it failed to mention that in one of the bedrooms there was an in-built cannabis factory. Unfortunately, the estate agent pointed out that the factory is not included in the price and has since been removed.
"Items shown in photographs are NOT included unless specifically mentioned within the sales particulars" it said.
The offending photo was eventually removed from the website. The estate agent selling the home explained they had to use the photo when trying to sell the home as "the property took a while to clear".
Police confirmed they discovered the cannabis factory in July following a tip-off. They dismantled and removed all the equipment, but added that no-one has been arrested in connection with the discovery.
A spokesman for Avon and Somerset police said: "On 9 July we had a call reporting a cannabis factory at a property in Washington Avenue.
"We attended to dismantle it. Nobody has been arrested in connection with this. When officers attend the site of a cannabis factory they take away the plants and any equipment that is needed for evidence.
"If anything remains in the property that could be used for further illegal drugs cultivation it is damaged beyond repair."
A resident who lived near to the home, told the Bristol Post: "I saw a woman once in the whole time she was there, which was about four weeks. As soon as she moved in, net curtains were put up on all the windows.
"There used to be a funny smell in my kitchen and I could not work out what it was. Then one morning I got a call and was told the police were outside the house."