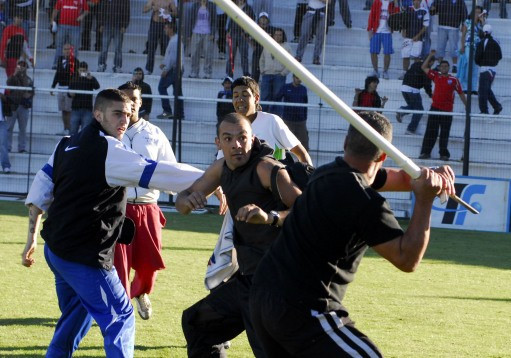 Though mired in some bitter controversies involving several alleged on-field racism rants, the ongoing European football season has been more or less free from hooliganism. But latest reports suggest that soccer hooligans are preparing to mar Euro 2012 by targeting Asian and black England fans.
According to the Sun, neo-Nazi ultra hooligans in the Ukrainian capital of Kiev have threatened that non-white England fans will land in hospital if they dare to show up during the England-Sweden fixture on June 15.
"We believe black and Asian people should stay in their own countries. We don't want them here for Euro 2012. We are not racists but we have the right to defend our country if blacks from England or anyone else come here looking for a fight. If these people want to stay safe they should stay away from the Ukraine and watch the football at home on TV," the paper has quoted hooligan ringleader Burly Sergei, 24, as saying.
"It is not right that black people go to countries like England and take over whole cities with their own cultures and languages. That is not tolerated here," Sergei added.
Another hooligan leader Valdik told the paper: "England fans may not appreciate our welcome if we catch them alone without the police to protect them. Fulham fans came here a couple of years ago and 20 of us took on 100 of them. We had no weapons - just fists - but they looked at us as though we had Kalashnikovs and refused to fight."
Europe has a long history of football hooliganism. The practice originated in England in the 1960s and spread over to the other European countries in the next decade. The incidents involve violence between fans of rival clubs or national teams and even attacks on ethnic minorities.
In the UK, such incidents are most often the outcome of excessive alcohol consumption. The latest in the series occurred in Birmingham in December last year when fans clashed after Birmingham City's Carling Cup game against Aston Villa. Nearly 15 people were injured in the violence.