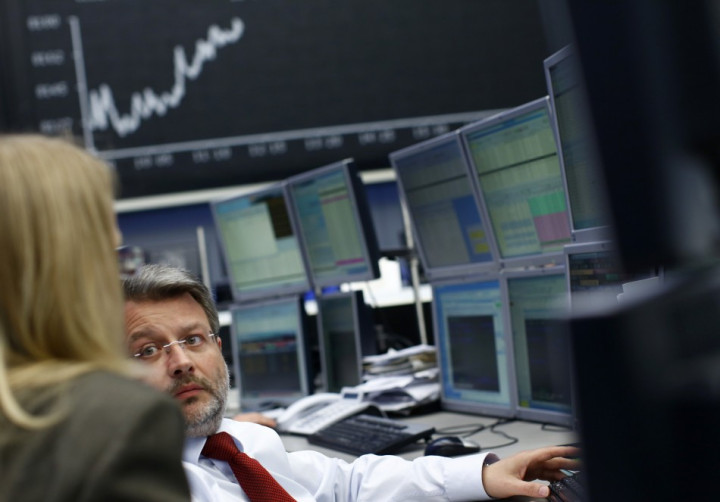 European equities outside Italy inched up in opening trade, after their biggest single day fall in about a year, ahead of an interpretation of German business confidence, and supported by Asian stocks that closed higher and by ECB head Mario Draghi's comments.
Stoxx Europe 600 index was up 0.3% to 305.02, the UK's FTSE 100 index opened 0.3% higher at 6,713.77 and France's CAC 40 index rose 0.6% to 3,988.92, while Germany's DAX gained 0.5% at 8,388.50.
Spain's IBEX opened 0.4% higher to 8377.30, while Italy's FTSE MIB fell 3% to 17008.42.
Speaking on a visit to London, Draghi said he could see "encouraging signs of tangible improvements" in Britain's economy. He also said that Ireland, Spain and Portugal had made "impressive" improvements in their export performances.
Draghi stressed the need for a banking union that centralises banking operations and regulations across Europe, to tackle the ongoing crisis.
On the debate about the UK's potential exist from the EU, Draghi, in his speech, reminded his audience about the "depth of the interconnection" between Britain and Europe.
"What I can say is that Europe needs a more European UK as much as the UK needs a more British Europe."
Investors in Europe will be tracking a raft of data coming in from Germany. The EU's largest economy reported a 0.1% growth in GDP on a quarter-on-quarter basis.
Investors will be following data coming in from the Gfk German Consumer Climate Index, apart from the German Ifo Business Climate Index that rates the current German business climate and gauges expectations for the next six months.
Data expected from the British Bankers' Association (BBA) will point to the number of new mortgages approved by BBA-backed banks during the previous month.
Elsewhere in Europe, Poland will put out unemployment data
In Asia, Japan's Nikkei closed 0.89% higher after volatile trade, while South Korea's Kospi closed 0.22% higher. Australia's S&P/ASX dropped 1.56% at the end of day's trade.
Earlier in Asia, markets inched up in early trade as the Japanese Nikkei moved up from its biggest single-day drop in two years, supported by a late rally in the US after PC maker Hewlett-Packard forecast an upbeat outlook.
On Wall Street, indices had opened lower on 23 May and then plunged to triple-digit lows, but made up most of the losses by the end of day's trade, owing to a rally in HP's stock, after the world's largest PC maker raised its outlook.
The Dow Jones Industrial Average closed 0.08% lower, while the S&P 500 ended 0.29% lower.