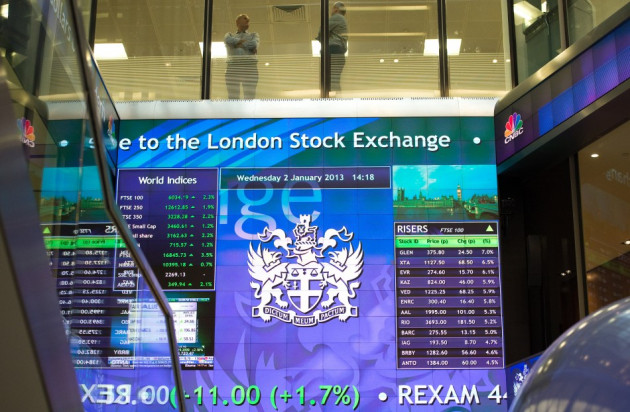 Stock markets across the world have seen record-breaking rallies judder to a halt, taking fright at disappointing Chinese data and fears over a slackening of US Federal Reserve's bond-buying appetite.
European stocks were down in opening trade, pulled down by weak Asian indices. Suprisingly poor Chinese factory activity and a possible roll back of the US Federal Reserve's bond-buying scheme fuelled a sell-off.
The Stoxx Europe 600 was down 1.2% at 306.81, the UK's FTSE 100 opened 1.7% lower at 6726.04 losing 120 points in early morning trading, France's CAC 40 index was down 2.1% at 3964.29, while Germany's DAX opened 1.9% lower at 8,360.55.
Spain's IBEX dropped 2.44% to 8255.50, and Italy's FTSE MIB fell 2.48% to 17110.91
Investors in the UK will be tracking the second estimate of first quarter GDP data during the day. Preliminary data showed the British economy grew 0.3% in the first three months of 2013.
Data from the top two economies in the eurozone showed that flash manufacturing PMI touched a two-month high to 49 in Germany, while the flash manufacturing PMI touched a nine-month high to 45.5 in France. Eurozone flash manufacturing PMI hit a three month high to 47.8.
Elsewhere in Europe, investors will be following ECB chief Mario Draghi's speech. Denmark will put out annual retail sales data during the day.
Later in the day, the markets will be tracking new, single-family home sales in the US, apart from initial and continuing jobless claims data coming in from the world's top economy.
Companies reporting earnings include London-headquartered SABMiller, the world's second largest brewer, Britain's biggest listed water firm United Utilities Group, retailers Mothercare and Halfords, and Portuguese telecoms firm Portugal Telecom
In Asia, Japan's Nikkei average tanked 6.8% at the end of day's trade on 23 May, Australia's S&P/ASX index was down 1.99%, while South Korea's Kospi closed 1.24% lower.
Earlier in Asia, markets outside China were down in early trade, pulled down by news that the US Federal Reserve could decrease its asset buys in the coming months, and by Chinese data that pointed to contracting factory activity in that country.
US Fed chief Ben Bernanke, in his testimony to Congress, suggested the US central bank could scale down its bond buying programme in the "next few meetings." His comment hit stocks on Wall Street, which extended its losses as minutes of the Fed meeting showed that several Fed officials were in favour of slowing down bond-buying as early as the June meeting.
In China, factory activity contracted in May, a first in seven months. HSBC's preliminary purchasing managers' index (PMI), which surveys purchases made by factory managers, fell to 49.6 in May from a final 50.4 in April. A reading below 50 signals contraction.
Bernanke's comments pushed the dollar to a new 52-week high of ¥103.74 on 22 May. The Japanese yen was trading at 102.65 at 2:01 pm Japanese time.
On Wall Street, all three benchmarks were down. The Standard & Poor's 500 Index lost 0.8%, the Dow Jones Industrial Average was down 0.5% and the Nasdaq Composite dropped 1.1%.