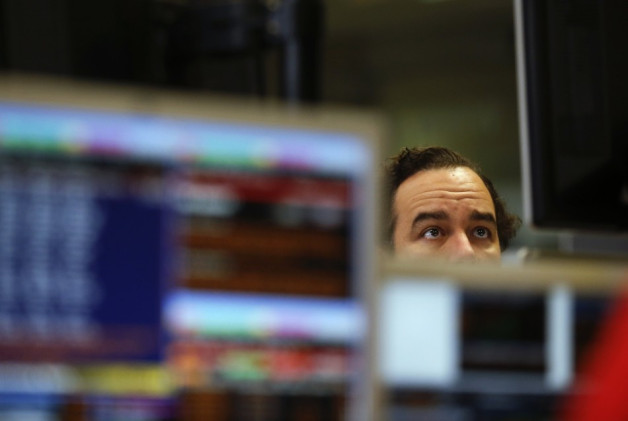 European stocks edged lower in the early minutes of trade as technology major Apple's weaker-than-expected earnings overshadowed improved Chinese manufacturing figures.
The UK's FTSE 100 fell 0.1 percent while Spain's IBEX declined 0.2 percent. Germany's DAX and Italy's FTSE MIB dropped 0.3 percent each.
In France, CAC-40 eased 0.1 percent. The FTSEurofirst 300 index covering the region's top shares fell 0.1 percent to 1,166.69.
The single currency fell to a session low of $1.32925 from $1.3329 after French PMI figures.
Asian markets had ended mixed earlier, with Japanese stocks reversing the previous day's losses as the yen resumed its weak run against the dollar after the country posted a record trade deficit.
The Nikkei average index ended 1.28 percent higher at 10620.87, while Australia's S&P/ASX 200 added 0.47 percent to 4810.20. South Korea's KOSPI was down 0.80 percent to 1964.48.
In China, the Shanghai Composite Index slipped 0.79 percent to 2302.60. Hong Kong's Hang Seng was down 0.19 percent to 23590.66 towards close.
Weak quarterly performance from US technology heavyweight Apple, which pushed the company's stocks down in after hours trading, dampened global market sentiments during the day. The company's suppliers fell during Asian market sessions, weighing heavy on benchmark indices. The spotlight now falls on Apple's European connections, including Germany's Infineon and UK chipmaker ARM holdings.
Eurozone economic concerns have made a comeback after the International Monetary Fund (IMF) cut the bloc's outlook, suggesting a 0.2 percent contraction in 2013. In October, the organisation had estimated a 0.2 percent expansion.
In China, HSBC's preliminary Purchasing Managers Index (PMI) showed that manufacturing in the world's second-largest economy improved for the fifth straight month in January. Index rose to 51.9, from a final reading of 51.5 in December. The figures further underscored speculation that Chinese economy is recovering from its 2012 slowdown, on track to post projected 8 percent growth in 2013.
But if Chinese indicators strengthened the country's outlook, reports from Japan confirmed the world's third-largest economy's weak condition. Official data from the Japanese finance ministry showed that the country's trade deficit widened to a record 6.9tn yen ($78bn; £49bn) in the previous year.
Japanese exports were down 5.8 percent year-on-year in December, mainly due to sluggish European demand, territorial concerns with China and a strong local currency. But analysts suggest that the figures appear to have bottomed out and could improve in the coming months. A Reuters poll of economists had shown that the trade gap could narrow by the fiscal year ending March 2014 to 5.6tn yen.
"I don't think the shortfall will persist as a trend," Takeshi Minami, chief economist at Norinchukin Research Institute in Tokyo, told Reuters.
"As US and Chinese economies pick up and the yen weakens, Japan's trade balance will return to surplus by around the end of this year."
The yen, which had strengthened against the dollar earlier after Bank of Japan's aggressive stimulus measures, resumed its weak drive. The greenback was up about 0.9 percent during the day, trading at about ¥89.42, pushing currency-sensitive stocks higher in Tokyo.
Elsewhere in Asia, South Korean investor sentiments weakened after official figures showed that the country's economy expanded at the slowest pace in 2012, despite showing recovery signs in the final months. The country has been hit by declining demand in Europe and China over the past year, but analysts forecast that conditions could improve in the coming months as government spending plans kick in and the global economy picks up.