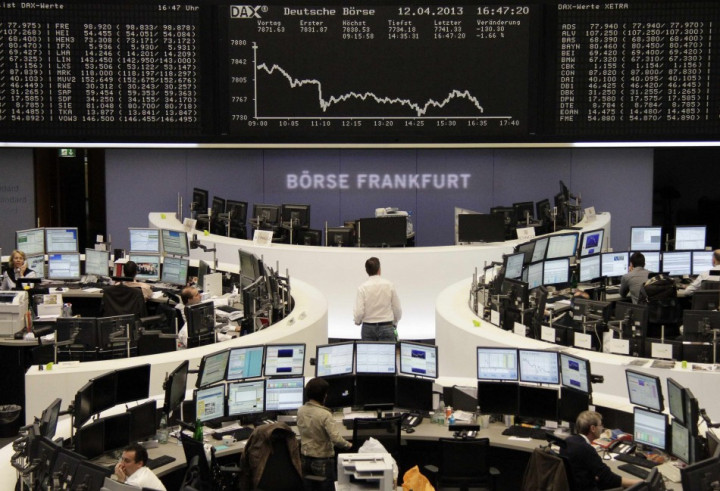 European markets declined in the early minutes of trade, following the pattern in the US and Asian markets that suffered from concerns about global growth amid lower commodity prices and two explosions at the Boston Marathon finish line.
The pan-European FTSEurofirst 300 index shed 0.3 percent to 1,171.49 points, while the UK's FTSE 100 declined 0.4 percent in early deals. France's CAC-40 was down 0.4 percent.
Spain's IBEX declined 0.6 percent and Italy's FTSE MIB fell 0.5 percent, while Germany's DAX slid 0.4 percent.
The US shares earlier posted their biggest one-day drop in 2013 on soft data from China and the US. China reported an unexpected slump in its gross domestic product for the first quarter, while manufacturing growth slowed more-than-expected in New York state in April and the US homebuilder sentiment weakened for a third month in a row.
Further, investor sentiment was damaged by two simultaneous explosions during the Boston Marathon event on Monday, killing three people and injuring dozens more.
The data triggered a heavy sell-off in commodities as worries about the outlook for global growth persuaded investors to shun risky assets.
Gold led the decline in commodities, falling 9 percent to mark the biggest loss since 1983. Gold futures traded in New York suffered a $140 loss after disappointing data from China. Among other commodities, silver and oil also tumbled.
In the UK, a survey by professional services firm Deloitte found that business confidence among chief financial officers rose for the third consecutive quarter. The better business sentiment was on the back of rising equity markets, ultra-easy monetary policy and better bank credit availability, according to the survey.
Major European data due for release during the day include the UK consumer and producer price figures and house price index for March; the ZEW Indicator of Economic Sentiment for Germany; and details of Eurozone and the US housing starts, building permits and industrial production for March.
Earlier, the Nikkei closed at 13,221.4, down 0.4 percent, while Australia's S&P/ASX 200 shed 0.4 percent at 4,946.9. South Korea's KOSPI closed at 1,922.2, up 0.1 percent.
Hong Kong's Hang Seng declined 0.1 percent to 21,756 towards close. In China, the Shanghai Composite index rose 0.2 percent to 2,185.3.
Japan's exporters continued to suffer from the strengthening of the yen in addition to concerns of weakening global demand. In South Korea, a supplementary budget announced by the government is unlikely to help economic growth, as part of the money raised through the issuance of bonds could crowd out some of the growth impact, according to analysts.