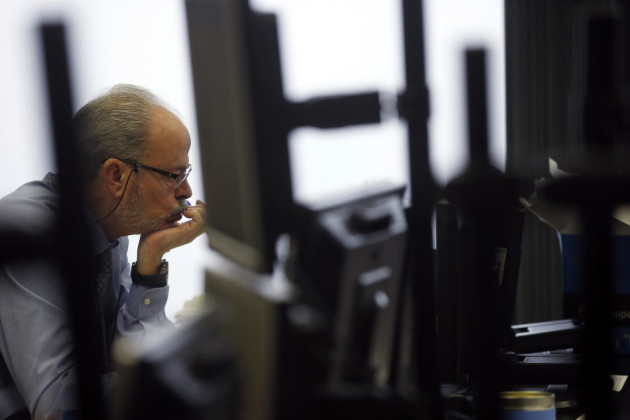 European stocks fell in the opening minutes of trade as investors awaited the UK's GDP figures and Germany's IFO survey data.
The UK's FTSE 100 eased 0.1 percent while Spain's IBEX declined 0.5 percent. France's CAC-40 and Italy's FTSE MIB slipped 0.2 percent each.
In Germany, the DAX remained little changed. The FTSEurofirst 300 index covering the region's top shares fell 0.2 percent to 1,169.29.
The single currency remained firm against the dollar, trading at about $1.34.
Asian markets had ended mixed earlier, with the exception of Japanese stocks which soared on the yen's weakness. Chinese markets also traded lower on economic concerns.
The Nikkei ended 2.88 percent higher to 10926.65 while South Korea's KOSPI fell 0.91 percent to 1946.69. Australia's S&P/ASX 200 gained 0.52 percent to 4835.20.
In China, the Shanghai Composite Index slipped 0.49 percent to 2291.30. Hong Kong's Hang Seng fell 0.15 percent lower to 23564.13 towards close.
UK's fourth quarter GDP data is set for release later in the day and analysts expect weak figures, increasing recession risks this year. A Thomson Reuters poll of economists had shown that the economy could have shrank 0.1 percent in final months of 2012. Another contraction early this year would mean that the country is slipping into its third recession since the financial crisis in 2008.
"Although much uncertainty surrounds this first estimate, after the Olympic-related surge in Q3, we expect a disappointing close to 2012," said David Page, senior economist at Lloyds Bank.
"Q4 will see the unwind of the Olympic ticket sales effect that boosted Q3 GDP (by 0.2% points) while a reversal of other Olympic related spending is likely to see service sector contraction".
Italian financial sector remains in focus after the country's third largest bank Banca Monte dei Paschi di Siena said that it could face up to 720mn euros loss on derivatives trade. The lender, which is one of the most undercapitalised in Europe, had sought 3.9bn euros government aid in the previous year.
Elsewhere in Europe, Germany's January IFO business survey data is expected to be released during the day. Analysts estimate a positive reading after the strong ZEW and yesterday's PMI figures that pushed stocks to fresh highs. Across the Atlantic, new home sales data is also set for release, with figures expected to show further strength in the housing sector.
Asian trading session was dominated by the yen's plunge against the dollar for the second straight day. Japanese consumer price figures released early in the day showed that deflation rates remained stubborn through 2012, taking the annual CPI down for the fourth straight year. This boosted fresh stimulus hopes on top of the recent aggressive measures from Bank of Japan and weighed the local currency down further.
The greenback climbed above the ¥90 to its highest level since June 2010 early in the day, while the euro firmed to about ¥121. Currency sensitive stocks, especially electronics firms, traded higher in Tokyo.
South Korean shares dropped to a 10-week low with automobile and electronic stocks weighing the benchmark KOSPI index lower. Samsung shares tumbled 2.48 percent despite upbeat quarterly earnings while Kia Motors was down 4.88 percent after the company's profits missed forecasts.