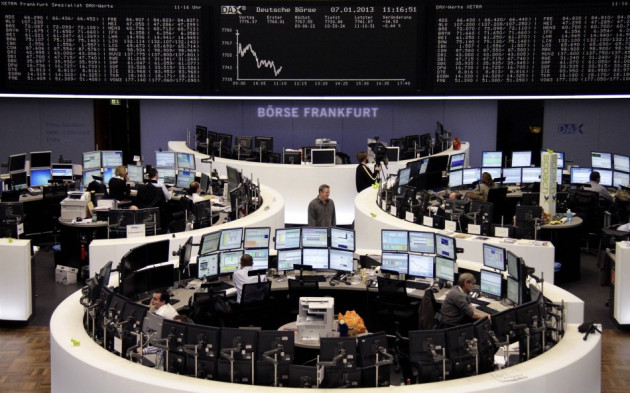 European stocks surged in the early minutes of trade, tracking Asian gains, as strong China Gross Domestic Product (GDP) data buoyed global economic optimism.
The UK's FTSE 100 rose 0.2 percent while Italy's FTSE MIB climbed 0.6 percent and Spain's IBEX added 0.5 percent.
In Germany, the DAX gained 0.2 percent while France's CAC-40 was up 0.3 percent.The FTSEurofirst 300 index covering the region's top shares gained 0.1 percent to 1,166.33.
The single currency picked up moderately against the dollar, trading at about $ 1.33.
Investors remain positive as official figures confirmed that the Chinese economy rebounded after seven straight weak quarters. The country's Gross Domestic Product (GDP) rose to 7.9 percent year-on-year in the fourth quarter beating expectations of a 7.8 percent rise and underscoring strong performance optimism for this year. Other data released alongside, including industrial production and retail sales were also positive, although fixed asset investment remained lower compared to the previous year.
"Faster implementation of China's fiscal programmes after May last year, together with relaxed access for firms and local government financing vehicles to access the bond market, have propelled a steady recovery of the economy since September last year," analysts at ANZ said in a note.
"As the destocking process of commodity inventory comes to an end, and sales of residential property warm up, we believe that China's growth momentum will rise at a faster pace in the coming two quarters".
Asian stocks had rallied earlier as the strong growth numbers from the world's second largest economy and a weak yen boosted sentiments across the region.
Japan's Nikkei closed 2.86 percent higher to 10913.30 while South Korea's KOSPI gained 0.69 percent to 1987.85. Australia's S&P/ASX 200 added 0.31 percent to 4771.20.
China's Shanghai Composite Index rose 1.41 percent to 2317.07, while Hong Kong's Hang Seng advanced 1.01 percent to 23575.55 towards close.
European political developments remain in focus after British Prime Minister David Cameron postponed a critical speech on the country's relationship with the European Union, due to the Algerian hostage crisis. Reports suggest that Cameron planned to say that UK will exit the EU unless the bloc took up strong reform measures. He was also expected to agree to a referendum on the matter, possibly after the 2015 general elections.
UK December retail sales are set for release during the day and analysts expect the figures to rise moderately by 0.2 percent, after remaining little changed in November.
The yen's weak run against the dollar, which has made regular headlines in recent weeks, continued to boost Japanese stocks. Bank of Japan (BoJ) is set to meet for a policy review early next week and traders remain optimistic that the central bank will relent to government pressure and take up aggressive monetary easing measures.
According to a Reuters report, which cited sources close to the matter, BoJ might take up a US Federal Reserve- style open-ended asset purchase plan to rid the economy from stubborn deflation levels. This will be a radical shift in BoJ's policy approach, but although it could cheer the financial markets, analysts warn that it has to be followed up with fiscal reforms.