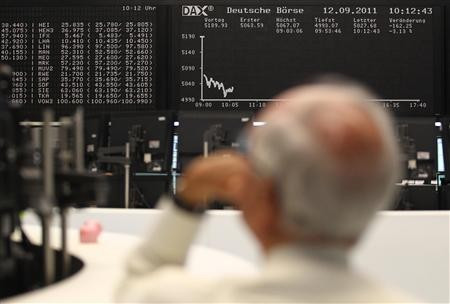 European markets opened on a mixed note in the early minutes of trade after an unexpected decline in China's first-quarter economic growth dragged Asian markets lower.
The pan-European FTSEurofirst 300 index shed 0.2 percent to 1,179.81 points, while the UK's FTSE 100 declined 0.2 percent in the first few hours of trading. France's CAC-40 was down 0.1 percent.
Spain's IBEX and Italy's FTSE MIB added 0.1 percent each, while Germany's DAX remained little changed.
Asian stocks declined earlier, after disappointing Chinese gross domestic product (GDP) data stoked concerns of growth in the world's second largest economy.
China's National Bureau of Statistics said the country's economic growth slowed down to 7.7 percent in the first quarter from 7.9 percent in the fourth quarter of 2012. Analysts expected a growth rate of about 8 percent for the first quarter.
In addition, China's Industrial output rose 8.9 percent year-on-year in March, lower than analysts' target of 10 percent. Meanwhile fixed asset investment, a key driver of China's growth, rose at an annual rate of 20.9 percent in the first quarter, missing analysts' expectations for growth of more than 21 percent.
The weak data from the world's second-largest economy adds to fears that a recovery in the global economy has to face more hurdles. This is in addition to a possible cut to the US growth outlook by the International Monetary Fund and investor George Soros' warning that Germany will probably be in recession by the end of September.
Investors are also concerned about the future of Cyprus, where the government is set to meet on Monday and Tuesday to discuss an urgent growth plan for the country.
Earlier, a survey of about 4,400 British businesses conducted by the British Chambers of Commerce revealed that nearly a fifth of the UK businesses favour a complete withdrawal from the European Union.
Major corporate announcements for the day include sales reports of French communications group Publicis and Swedish fashion retailer H&M. In addition, freight firm Kuehne & Nagel is due to release its first-quarter results while Deutsche Bank will be releasing its 2012 annual report.
The Nikkei had earlier closed at 13,275.7, down 1.6 percent, while Australia's S&P/ASX 200 shed 1 percent at 4,964.6. South Korea's KOSPI closed at 1,920.5, down 0.2 percent.
Hong Kong's Hang Seng declined 1.5 percent to 21,767.6 towards close. In China, the Shanghai Composite index declined 1.2 percent to 2,180.7.
The decline in prices of oil, metals and other commodities, especially gold futures that slumped to their lowest level in 21 months, affected commodity stocks in the region.
The Japanese yen failed to break the 100 mark against the dollar, retreating to 97.95, amidst pressure from the US and Europe to stop devaluing the currency. The yen has depreciated 20 percent against the US dollar in the past 6 months.
Ahead of the G20 summit of global finance ministers, traders are slowing down on their bets against the yen.