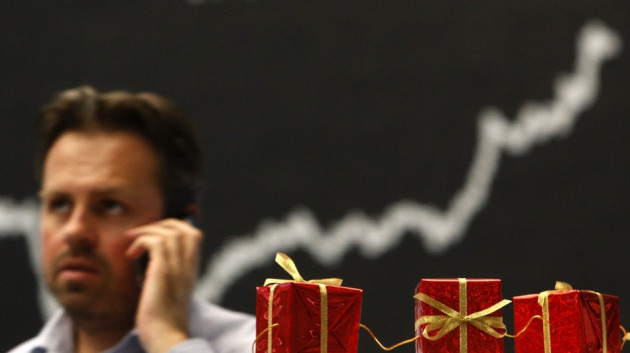 European stocks remained mixed in the opening minutes of trade amid concerns about the US "fiscal cliff" negotiations and China's policy reform reassurances.
The FTSEurofirst 300 index slipped 0.3 percent to 1133.16 points, while Britain's FTSE 100 remained little changed. Italy's FTSE MIB rose 0.2 percent while Spain's Ibex was down 0.1 percent.
In France, the CAC-40 fell 0.3 percent while Germany's DAX climbed 0.7 percent.
The single currency eased from its early strengths against the greenback, but picked up to around $1.3160.
Asian markets had ended mixed earlier, with Japanese stocks rallying to an almost nine-month high after the Liberal Democratic Party's (LDP's) landslide victory in the lower-house elections.
The Nikkei climbed 0.94 percent to 9828.88 while South Korea's KOSPI was down 0.6 percent to 1983.07. Hong Kong's Hang Seng slipped 0.41 percent to 22512.24 towards close. Mainland China's Shanghai Composite Index gained 0.45 percent to 2160.34.
The "fiscal cliff" negotiations in the US showed mild signs of improvement, after the US House of Representatives Speaker John Boehner agreed to back Obama's move to increase taxes for the wealthy on certain conditions. But concerns remained, as a final decision on the matter is yet to be taken.
Chinese stocks picked up on positive economic policy comments from the country's new leaders over the weekend. The state-owned news agency Xinhua reported, citing officials, that the Communist nation will continue to maintain steady economic policies in the coming year while taking up reforms in tandem with global financial conditions and ensuring long-term expansion.
Sentiments were also boosted by the government's decision to lift the $1bn investment cap on sovereign wealth funds, central banks and monetary authorities. Analysts suggest that the decision is aimed at boosting foreign institutional ownership and expanding China's capital account.
Traders in Tokyo remained upbeat on hopes of monetary easing measures from the Bank of Japan (BOJ), as the pro-stimulus LDP won more than two-thirds of the available seats. The BOJ is set to meet for a policy review later this week and analysts expect moderate stimulus action from the central bank.
Before the elections, the LDP had called for unlimited monetary easing measures and raising inflation levels to boost the economy.
"The new government's first impact on economic policy (in the New Year) is now likely to be the implementation of a package of economic measures that includes a supplementary budget," said analysts at Nomura Research.
"We expect this to be worth at least ¥2-3trn (and possibly more than ¥5trn) in terms of net new money".
The yen plunged to its lowest level in about 20 months, pushing exporter stocks higher on expectations of higher earnings.