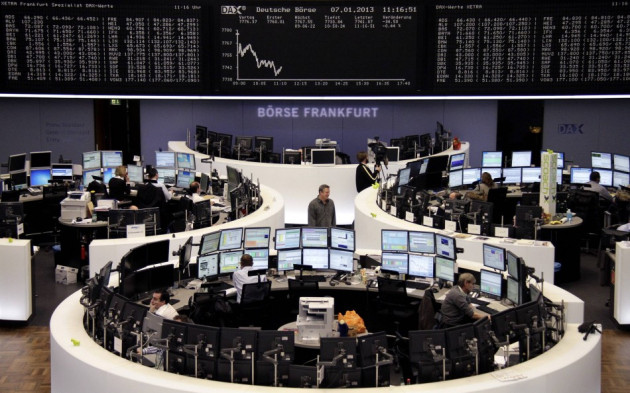 European markets gained in the opening minutes of trade, tracking Asian gains on robust China trade data ahead of the European Central Bank and Bank of England policy meet.
The FTSEurofirst 300 index tracking the region's top stocks remained little changed at 1,168.07. The UK's FTSE 100 gained 0.1 percent while Italy's FTSE MIB added 0.4 percent. Spain's IBEX and Germany's DAX rose 0.2 percent each.
In France, CAC-40 eased 0.1 percent.
The single currency picked up against the dollar, trading at about $1.30.
Asian markets had ended higher earlier as Chinese trade figures and a weak yen raised hopes of economic recovery in the region.
The Nikkei closed 0.70 percent higher to 10652.64 while South Korea's KOSPI added 0.75 percent to 2006.80. In Australia, the S&P/ASX gained 0.32 percent to 4723.
Hong Kong's Hang Seng traded 0.64 percent up to 23366.36 towards close. In China, the Shanghai Composite Index ended 0.37 percent higher to 2283.66.
Speculations of a Chinese economic recovery was further underscored after official data showed that the country's trade widened more than expected in December as exports hit a seven-month high of 14 percent.
Chinese economy is believed to be picking up from the 7.4 percent slump in the third quarter as several indicators released since September remain positive. But the latest data was a bit of a surprise as analysts expected an economic rebound mainly on the back of domestic demand as the global economic climate remains weak.
The data cheered investors in Hong Kong and Shanghai while the China-sensitive Australian currency firmed against the US dollar.
European traders are keeping a close watch on ECB and the BoE policy meet set to take place later in the day. The ECB is widely expected to hold the benchmark interest rates at a record low of 0.75 percent, despite rate cut indications made in the previous month and weak German indicators. The BoE is also not expected to take up further monetary easing action for the moment.
In Japan, the yen returned to lower levels against the dollar as the newly elected Prime Minister Shinzo Abe's monetary easing stand continued to boost optimism. The greenback traded at over 88 Yen in the day, encouraging Tokyo traders to buy up exporter stocks.
Following Abe's calls to spike inflation targets, the Bank of Japan (BoJ) Governor Masaaki Shirakawa has said that the central bank was working closely with the government. Speculations are running high that BoJ might look to introduce further stimulus measures at its policy meet later this month.