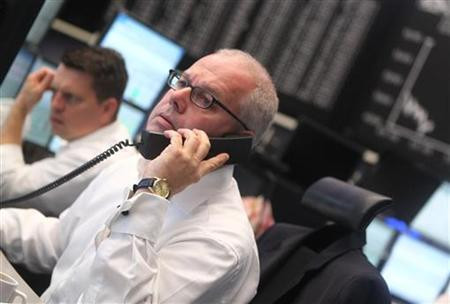 European stocks remained mixed in the early minutes of the first session after the Christmas break as US lawmakers continue their efforts to clinch a last-minute deal to avert the 'fiscal cliff'.
The FTSEurofirst 300 share index fell 0.1 percent to 1,136.05.Britain's FTSE 100 too dropped 0.1 in early.
In France, CAC-40 gained 0.1 percent while Italy's FTSE MIB rose 0.3 percent. Germany's DAX was up 0.2 percent
In Spain, Ibex fell 0.5 percent.
The single currency jumped to an 8-month high against the Pound, trading at 82.12p and held firm against the greenback, at about $1.32.
Most Asian markets had earlier ended higher, led by Japanese stocks, after the Yen plunged to about two year low against the greenback as the Liberal Democratic Party (LDP) took office.
The Nikkei ended 0.9 percent higher to 10322.98 while South Korea's KOSPI was up 0.26 percent to 1987.35. Hong Kong's Hang Seng Index rose 0.34 percent to 22618.41 towards close. China's Shanghai Composite Index closed 0.6 percent lower to 2205.90.
Traders continue to remain wary of the US economy, as "fiscal cliff" talks between the White House and the Republicans appear nowhere near a solution despite the looming year-end deadline. Although the political deadlock that has been going on for weeks had weighed on markets, analysts were earlier largely hopeful of the lawmakers reaching an agreement at least by the last minute.
But traders had turned pessimistic before the Christmas holiday season as the Republican House of Representatives Speaker John Boehner was forced to call off a backup plan due to lack of support from his own party members.
In a bid to settle the differences before time runs out, President Barack Obama has returned early from vacation to resume negotiations. Boehner, on his part, has asked the Senate to pass its own legislation on the matter.
Meanwhile, US Treasury Secretary Timothy Geithner has said that the government will reach its debt ceiling on 31 December and that "extraordinary measures" will be taken to extend headroom under the limit. But he added that the amount of extra time the temporary move could buy remains uncertain due to lack of clarity on tax and spending policies.
Japanese traders remained positive as the Liberal Democratic Party's leader Shinzo Abe took office as Prime Minister this week. Abe, who is known for his pro-stimulus stand, is expected to put pressure on the Bank of Japan to take up aggressive monetary easing measures. Such hopes had pushed the Yen lower to about two years against the Dollar, supporting currency sensitive stocks up.
Chinese stocks remained weak in the day as concerns on the market overheating set in after the benchmark gauge picked up from a three-year low this month.
Recent economic indicators, including industrial profits released early in the day, point to strong performance from the Chinese economy in the final quarter. Growth is estimated to reach as much as 8.4 percent in 2013, according to the World Bank.