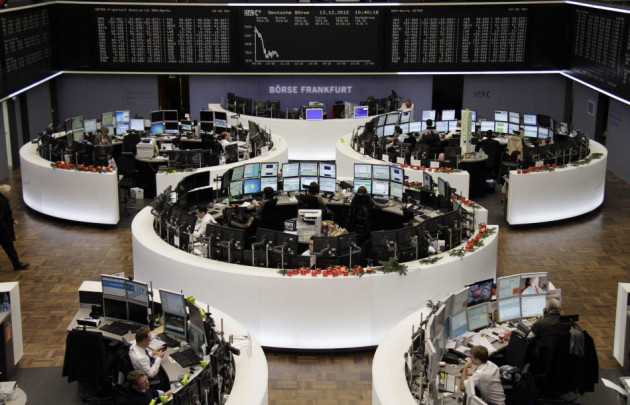 European markets rose firmly in the opening minutes of trade, looking all set to beat the highest levels of the year on US budget talks optimism and S&P's Greece credit status upgrade.
Europe's FTSEurofirst 300 index rose 0.1 percent to 1,138.76 points - a few spots below the 2012 highs - while Britain's FTSE 100 gained 0.3 percent. Italy's FTSE MIB climbed 0.6 percent while Spain's Ibex gained 0.4 percent.
France's CAC-40 and Germany's DAX were up 0.3 percent each.
The common-currency held firm against the greenback, trading at around $1.32.
Signs of progress on the US budget negotiations, and speculation of monetary easing measures in Japan, had boosted Asian markets higher earlier, with the Nikkei breaking the 10,000 mark for the first time in about seven months.
Japan's Nikkei average ended 2.39 percent higher to 10160.40. Hong Kong's Hang Seng index traded 0.52 percent to 22612.82 towards the close, while China's Shanghai Composite Index eased 0.01 percent to 2162.24. South Korean markets remained closed for elections.
Strong Wall Street cues boosted sentiments in Asia as the 'fiscal cliff' negotiations appeared to head in the right direction. Concerns on the tax hikes and spending cuts pushing the economy into recession had weighed on the markets in recent weeks.
However, despite increasing indications of a compromise a final deal still seems elusive. Earlier this week, President Barack Obama softened his stance and offered to retain tax rates of those earning $400,000 or less and, and introduce an increase for those making more. But later Republican House of Representatives Speaker John Boehner said that he will keep a backup plan to increase taxes only for households earning $1m or more, in case the lawmakers fail to reach an agreement.
Eurozone concerns eased mildly after the ratings agency Standard and Poor's raised Greece's credit status by six spots, citing strong efforts from other eurozone nations to retain Athens in the bloc. Though Greece continued to struggle with its financial woes and its economy looked set for another year of downturn, the rating upgrade boosted hopes that the country is on the right track.
Sentiments remained upbeat in Japan ahead of Bank of Japan's (BoJ) monetary policy meeting this week. The pro-stimulus Liberal Democratic Party's (LDP) electoral victory has increased speculation that the central bank may be forced to aid Japan's lagging economy. However analysts have downplayed market hopes, suggesting that BoJ may refrain from aggressive efforts in the upcoming meeting.
Meanwhile the World Bank revised its China outlook upwards, citing the government's stimulus measures and spending plans to boost the economy.
Chinese markets picked up following a weak start as positive indicators eased growth concerns. A preliminary reading of HSBC Purchasing Managers Index (PMI), released in the previous week, had shown that Chinese manufacturing jumped to a 14-month high in November. This was preceded by strong retail sales and industrial output figures.