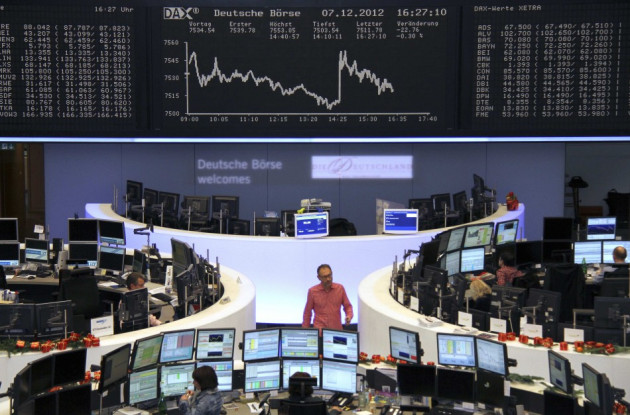 European stocks have dropped in the early minutes of trading as concerns of a potential Italian political crisis and worries over the German economy offset strong indicators from China and the US.
Europe's FTSEurofirst 300 fell 0.2 percent to 1,130.42 points, while Britain's FTSE 100 was down 0.1 percent in early trading. Italy's FTSE MIB opened 1.9 percent lower while Germany's benchmark DAX index eased 0.5 percent.
In Spain, the IBEX dropped 1.1 percent while France's CAC-40 was down 0.5 percent
The euro dropped to its lowest level in two weeks against the dollar, slipping 0.3 percent to $1.2880.
Concerns on the eurozone returned as Germany's Bundesbank said that the bloc's biggest economy could be on the brink of recession. The central bank slashed its forecasts for 2013 as the tough conditions in some of the major economies in the region and the general uncertainty could hurt growth.
Italian Prime Minister Mario Monti announced over the weekend that he would resign after the country's 2013 budget is approved, possibly advancing the elections scheduled for later next year. A potential political imbalance in the country could boost Italy's borrowing costs and add to concerns on the eurozone as whole.
Meanwhile, Greece remains optimistic that its bond buyback plan, crucial for the country to receive monetary aid from its international lenders, is on track to meet the targets.
Chinese economic data released over the weekend showed that the country's industrial production jumped 10.1 percent in November, while retail sales rose climbed 14.9 percent. Trade figures released early in the day failed to meet expectations as the global slowdown hit demand in developed economies. But analysts said that despite the weak external demand, the Chinese economy is on track for stronger performance in the final quarter of the year.
"November activity data came out quite strong, supporting our view of rebounding GDP growth," said Ting Lu, China economist at Bank of America Merrill Lynch.
"With the print of 10.1% industrial production (IP) growth in Nov, we are confident to maintain our 7.8% yoy GDP growth forecast for 4Q12 (vs 7.4% in 3Q)".
Most Asian markets ended higher, led by Chinese stocks after the strong indicators boosted hopes of recovery in the world's second largest economy.
Hong Kong's Hang Seng climbed 0.39 percent to 22276.72, while mainland China's Shanghai Composite Index was up 1.07 percent to 2083.77. Japan's Nikkei edged 0.07 percent higher to close at 9533.75. South Korea's KOSPI ended little changed at 1957.42.
Hopes of growth in the US gained momentum after the country's unemployment rate was seen to be dropping to a four-year low in November. The jobless rate fell to 7.7 percent in the month from 7.9 in the previous one.