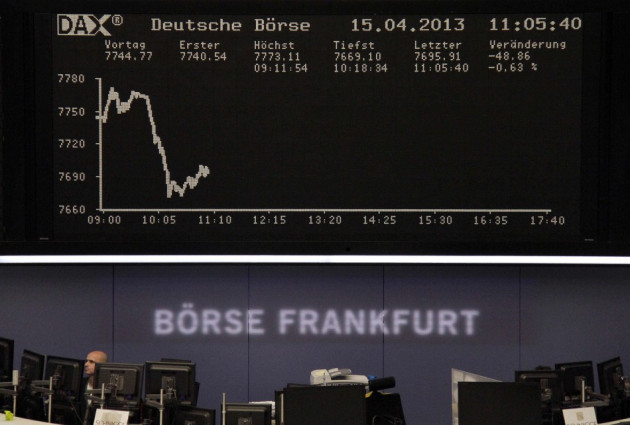 The pan-European Stoxx Europe 600 index opened flat at 300.90. France's CAC-40 declined 0.1%, while Germany's DAX remained little changed at 8,118.6.
The UK's FTSE 100 is closed for a public holiday.
Thousands of protesters marched in Paris on 5 May against the ongoing austerity measures in France as the country celebrates the one-year anniversary of President Francois Hollande coming to power.
Italy's newly-appointed Prime Minister Enrico Letta is due to present a plan to spur growth in the job market, allowing investments from budget calculations for the purpose.
Following an interest rate cut last week, the European Central Bank head Mario Drghi will address the media later in the day.
Major economic data due for release include BRC retail price in the UK, services and composite PMI data for the eurozone and other major euro countries, and the eurozone retail sales data.
French investment bank Natixis, insurer AXA and German medical equipment company Fresenius are slated to release their first quarter results later in the day.
Earlier, the non-farm payrolls report by the US Department of Labour showed that the economy created 165,000 new jobs in April above economists' forecast of nearly 145,000. The unemployment rate declined by 0.1 percentage point to 7.5%, a four-year low in April.
The figures that painted a brighter picture of the world's largest economy came amid fears of a slowdown in the second quarter.
Following the report, the Dow Jones Industrial Average climbed 1%, and the S&P 500 ended 1.1% higher to surpass the 1,600 level. The S&P 500 has so far surged 139% from a 12-year low in 2009, on the back of better-than-estimated corporate earnings and continued bond purchases by the Federal Reserve.
Asian markets previously gained on commodity stocks that surged in the aftermath of the US jobs data.
Australia's S&P/ASX 200 rose 0.05% to 5,156.2 at closing, while South Korea's KOSPI closed at 1,961.5, down 0.2%. Japan's Nikkei is closed for a public holiday.
Hong Kong's Hang Seng gained 1% to 22,910.9 towards close. The Shanghai Composite was up 1.3% to 2,233.9.