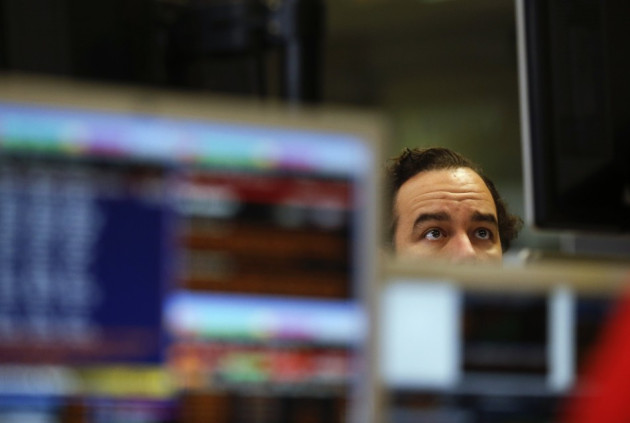 Most European markets steadied in the opening minutes of trade as investors looked to the other side of the Atlantic for hopes of further stimulus from the US Federal Reserve and signs of progress in budget talks.
Europe's FTSEurofirst 300 eased 0.01 percent to 1,133.72 while Britain's FTSE 100 remained little changed in early trading. Italy's FTSE MIB gained 0.3 percent lower while Spain's Ibex was up 0.1 percent.
Germany's benchmark DAX remained little changed while France's CAC-40 rose 0.2 percent
The single currency remained above two-week lows against the dollar.
Markets had struggled on concerns of a political crisis in Italy after Prime Minister Mario Monti announced his resignation sooner than expected, advancing elections to early next year. But sentiments picked up moderately as Monti played down concerns, saying that there was no possibility of a crisis.
Greece had extended its deadline for the bond buyback plan, crucial for its bailout from the International Monetary Fund and the European Union. Despite initial sluggish demand from investors, the scheme is expected to reach targets since Greek banks may make up for the shortage.
All eyes are on the US Federal Reserve as its monetary policy committee gets together for its final meet of 2012. The Fed is expected to launch a new long-term asset purchase programme as its current stimulus plan Operation Twist is set to expire this month. At the close of the two-day meet, the Fed may also release its forecast on the economy and related factors.
Hopes of the aid measure come amid speculations of progress in the "fiscal cliff" talks as lawmakers struggle to strike a deal that could avoid an automatic rise in taxes and cuts in spending that could potentially push the world's largest economy into recession. House Speaker John Boehner met President Barack Obama for a one-on-one meeting on the matter after weeks of political deadlock on the matter.
Asian Markets
Asian markets had earlier ended mixed with Japanese utility stocks pulling the Nikkei lower while the Chinese market eased after recent gains.
The Nikkei ended 0.09 percent lower to 9525.32 while South Korea's KOSPI was up 0.37 percent to 1964.62. China's Shanghai Composite Index fell 0.44 percent to 2074.70 while Hong Kong's Hang Seng traded 0.21 percent higher to 22322.77 towards close.
Concerns on the Japanese economy increased after the government retained its earlier estimates that the country's economy contracted 0.9 percent in the quarter ending September. Growth had contracted 0.03 percent in the previous quarter, according to revised estimates. Economic contraction for two straight quarters is commonly considered an indicator of recession.
Hopes of monetary easing measures rom the Bank of Japan as it meets for a policy review next week weighed on the yen.