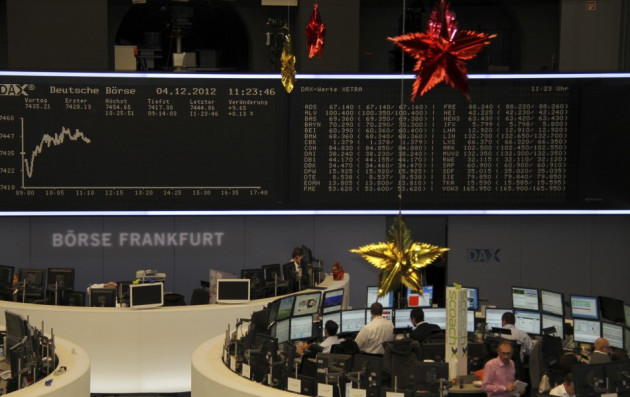 European stocks rose in the opening minutes of trade, looking set to advance for the eighth straight session on hopes of monetary stimulus measures from the US Federal Reserve.
The pan-Europeean FTSEurofirst 300 share index opened largely unchanged at 1138.67 while Britain's FTSE 100 was up 0.1 percent. Italy's FTSE MIB and Spain's Ibex rose 0.3 percent respectively.
In Germany, DAX was up 0.1 percent while France's CAC-40 saw little change.
The single currency jumped back above $1.3000, gaining further from the two-week dip of $1.2876 in the previous week.
Asian markets had closed higher as the Dollar firmed against the Yen ahead of Bank of Japan's policy meet, boosting exporter stocks in Tokyo.
The Nikkei ended 0.59 percent higher to 9581.46 while South Korea's KOSPI was up 0.55 percent to 1975.44. Hong Kong's Hang Seng index traded 0.67 percent higher to 22474.47 towards close. China's Shanghai Composite Index gained 0.39 percent to 2082.73.
The United States Federal Reserve's policy meet is set to conclude later in the day, with expected announcements of further stimulus measures to boost the economy. The central bank's current programme 'Operation Twist' expires this month and analysts expect the Fed to announce monthly purchase plans of Treasurys worth $45 bn.
Speculations on the Fed's plans came amid indications of progress in the 'fiscal cliff' negotiations among US lawmakers. President Barack Obama and House of Representatives Speaker John Boehner exchanged fresh proposals to solve the impending crisis and held telephone conversations on the matter.
South Korean stocks shrugged off reports of a North Korean rocket launch - which many consider to be a disguise for a ballistic missile test - and remained strong although the Won eased from a 15-month peak.
Hopes of monetary easing measures from the Bank of Japan (BOJ) gathered further momentum after official data showed that the country's core machinery orders rose less than expected in October. Japan's economy is technically in recession after the government re-confirmed that GDP contracted 0.09 percent in the three months ending September.
Japan is heading to elections on 16 December and the current opposition Liberal Democratic Party (LDP) and is expected to take office next. LDP and its leader Shinzo Abe are known for their pro-stimulus stand and investors expect them to put pressure on the central bank for more monetary easing measures. BOJ is set to meet for a policy review next week.
Major Movers in Asia
Metals and Technology stocks ended higher in Tokyo. Shares of Nippon Light Metal Holdings rose 11.54 percent while those of Nisshin Steel Holdings and Kobe Steel were up 5.22 and 5.11 percent respectively.
Sharp gained 7.80 percent while Panasonic and Sony were up 7.21 and 3.09 percent respectively.
Property stocks were up in Hong Kong. China Overseas Land and Investment rose 3.88 percent while Wharf Holdings was up 1.36 percent towards close.
Shares of PetroChina were up 0.94 percent following reports of its deal for BHP Billiton's stake in Browse gas-export project in Australia.