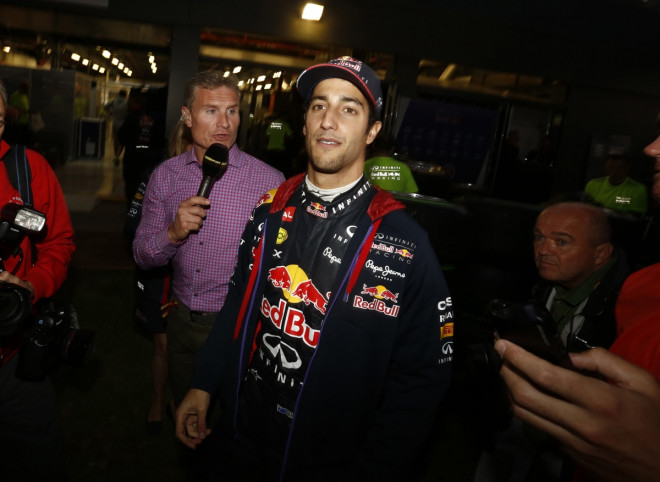 Red Bull team principal Christian Horner is optimistic over successfully appealing Daniel Ricciardo's disqualification from the Australian Grand Prix for a fuel flow infringement.
Ricciardo became the first Aussie to finish on the podium in Melbourne after crossing the line in second behind race winner Nico Rosberg of Mercedes but was stripped of the result on his Red Bull debut five hours later.
The FIA found that Ricciardo's Red Bull exceeded the maximum fuel-flow rate of 100kg per hour, which is regulated by sensors installed on each car by the governing body.
In pleading his team's innocence, which sees McLaren's Kevin Magnussen and Jenson Button promoted to the second and third respectively, Horner has criticised the reliability of the technology and is confident over appealing the decision.
"Extremely disappointed, quite surprised and we will of course appeal," said Horner. "And hopefully through the appeal process, it will be quite clear the car has conformed at all times with the regulations.
"These fuel flow sensors that have been fitted by the FIA to measure fuel - which have proved problematic throughout the pitlane since their introduction at the start of testing - there's been discrepancies in them and they've been unreliable.
"I think some cars may well have run without them in the race itself, or that they've failed in the race itself."
He added: "I think it's common knowledge that there's been problems with these sensors all year. I think during the race, there's other teams that have had sensors fail.
"It's immature technology and it's impossible to rely 100 per cent on that sensor, which has proved to be problematic in almost every session that we've run in.
"There's been so many issues with these sensors. As I say, I don't think any of them have been working 100 per cent reliably throughout the weekend.
"We wouldn't be appealing if we didn't feel confident we could have a dependable case. It's just extremely disappointing that this has happened.
"It's certainly no fault of Daniel's; I don't believe it's the fault of the team's. I believe we've complied with the rules and the investigation documents will be submitted within the appeal."
The ruling soured Ricciardo's podium finish at Albert Park on his debut for Red Bull, a result which came as a major surprised after the constructors' champions endured a harrowing winter testing period.
The 24 year old moved from sister team Toro Rosso to replace the retired Mark Webber in the off-season.
Following a vast number of changes to regulations, the incident regarding the fuel-flow rate is expected to be the first of several controversies during this Formula 1 season with many teams struggling to adapt sufficiently to the sport's new era.