It is often difficult, based on practice times and performances in test sessions, to truly understand just how fast a car or a driver can be. So technically demanding is the sport and so much does depend on gaining or losing fractions of a second that a car stunningly quick in a morning session can be well off the pace in the evening, all because, for example, of a shift in the direction of wind or a few degrees less heat in the tyres.
The pace of McLaren's Lewis Hamilton all through the practice sessions for the 2012 Formula 1 Hungarian Grand Prix at the Hungaroring suggested a car/driver combination perfectly balanced and set up to maximise its advantages and downplay its defects. Hamilton's times in the first and second practice sessions on Friday were at least two-tenths clear of his rivals and the presence of team mate Jenson Button in second and sixth places suggested the McLaren would be a strong contender on Saturday and Sunday.
Then again, it was the same story last year. The 2011 Hungarian Grand Prix saw Hamilton dominant in the practice sessions but lose pole to Red Bull's Sebastian Vettel and the race to Vettel and Button, as well as Ferrari's Fernando Alonso. This year it was a little different.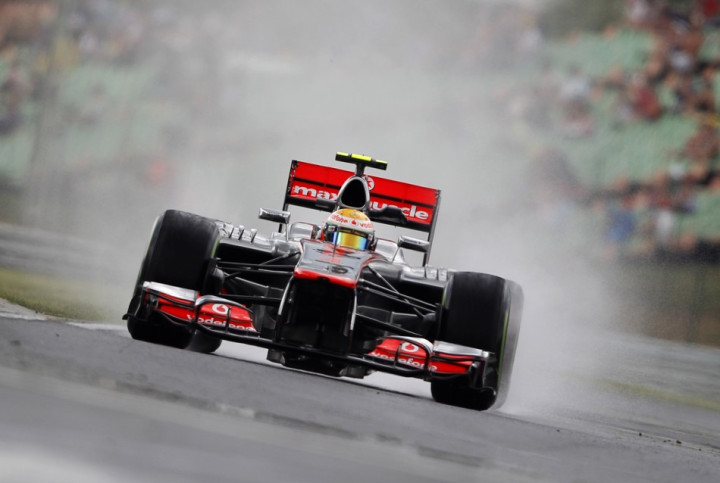 Saturday Qualifying
Hamilton set blistering lap times through two of the three sections in Saturday's qualifying session, finishing with a Q3 time of 1:20.953. Team mate Button finished not far behind, in fourth, with 1:21.583. There were still plenty of surprises though - the Red Bull of Mark Webber is nowhere to been at the top of the order and the Ferraris of Alonso and Felipe Massa seem to have hit a roadblock in their mid-season revival.
"Yeah, it's been a really positive weekend so far. The guys have done an incredible job this weekend as always, preparing the car. To finally see the upgrades working this weekend, I've been able to put the car in places that I previously wasn't able to do. So, generally every lap has been quite good throughout practice and qualifying, apart from the first run in Q3," Hamilton explained in the post-race press conference.
Sunday's race is perfectly set up for Hamilton to win. His pace through the practice and qualifying indicate the McLaren is well set up and is using its tyres better than it has in recent races. It also indicates the much talked about updates to the MP4-7 (in the works since the British Grand Prix) have worked well. It is also in his favour that a number of his championship contenders are further back down the grid and will need to do a lot of overtaking on a circuit that isn't renowned for that aspect of racing.
Vettel looked set to have secured second place on the grid, with a time of 1:21.416, until Romain Grosjean, with a superb last-gasp lap, snuck in with a 1:21.366 to record his first ever front row Formula 1 start. The Frenchman was joined at the top end of the grid by team mate Kimi Raikkonen, who qualified fifth on 1:21.730.
Meanwhile, the Ferraris of Alonso and Massa struggled through the second and third sessions, finishing the former nearly half a second of Hamilton's pace and Q3 in sixth and seventh, respectively. Alonso and Massa were both nearly a second off the McLaren driver's final qualifying time (Alonso - 1:21.844; Massa - 1:21.900), which is a huge surprise given they ran strongly in the practice sessions. However, judging by quotes from the drivers and engineers, the team is actually pleased with the way things went.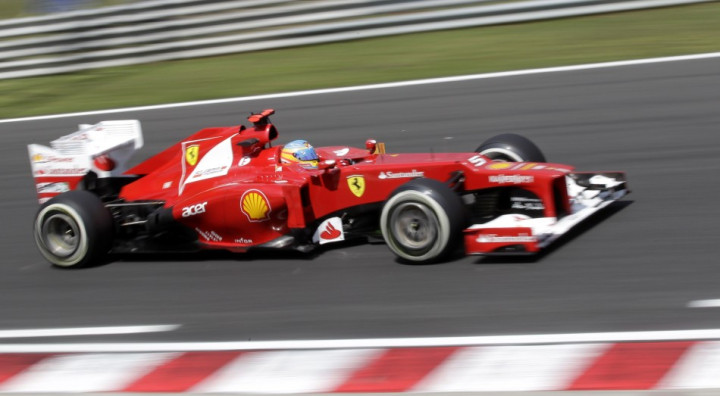 "It was a very complicated and difficult qualifying, which is actually what we were expecting. The fight to get into Q3 was very tight and it was important to get both Felipe and Fernando into the final part of the session, even if we got there having only one set of new soft tyres left," Pat Fry, Ferrari's chassis director, explained to the team's official Web site.
The Red Bulls had a mixed qualifying session. Although Vettel made it to third and looked strong in the process, team mate Webber struggled from the start and eventually finished just outside the top ten, in 11th, with a time that was 0.655s slower than Hamilton's Q2 pace.
"Yeah, I think for us it more a difficulty of getting everything to work properly. I think the speed is there but yeah it seems extremely difficult once you lose the balance a little bit. We shot through all the tyres, more or less. I knew I only had one set in Q3. I'm not entirely happy with the lap I had," Vettel later explained, adding that tyre management would be crucial for all the teams, given most of them had used more sets than they would ideally like to.
The top ten in qualifying were rounded out by the Williams' pair Pastor Maldonado (whose off-track excursion in Q2 cost Mercedes' Michael Schumacher a potential Q3 slot himself) and Bruno Senna, who finished eighth and ninth with times of 1:21.939 and 1:22.343, respectively. Nico Hulkenberg took tenth for Force India with 1:22. 847.
Sunday Race Tactics
At the risk of placing a hex on Hamilton and the McLaren team, it really does seem the race is theirs for the taking... so impressive has his pace been throughout the weekend. Hamilton is clearly delighted with the way the car is handling and responding and team mate Button indicated he too was pleased with his work.
"I'm really happy! It's been a really good weekend so far. Our upgrades are working. Jenson and I always want more speed still - that's natural for any racing driver - but the guys back at Woking, and here in Budapest, have done a brilliant job. Our car now feels fantastic. We've been fine-tuning its setup all weekend. Believe me: as long as we remain fully focused on developing our car," Hamilton explained after qualifying.
As we explained earlier, Hamilton's biggest advantage could well be the fact most of his championship rivals (excluding Vettel) will start reasonably far behind him and he will be doubly delighted that both Lotus cars outraced the Ferraris; he will have to be careful of Raikkonen and Grosjean in the race though.
Meanwhile, the focus of the race, Hamilton apart, will be the Ferrari duo of Alonso and Massa. Both drivers did indicate earlier they expected a difficult weekend at Hungary and strong pace in the first practice session has since dropped away to consistent fifth or sixth place times. Alonso finished the final practice session - hours before qualifying on Saturday - only 0.334s behind Webber's 1:21.550. However, what could be more indicative of his pace is the fact that on the two occasions Hamilton topped practice the Ferrari driver finished half a second behind each time.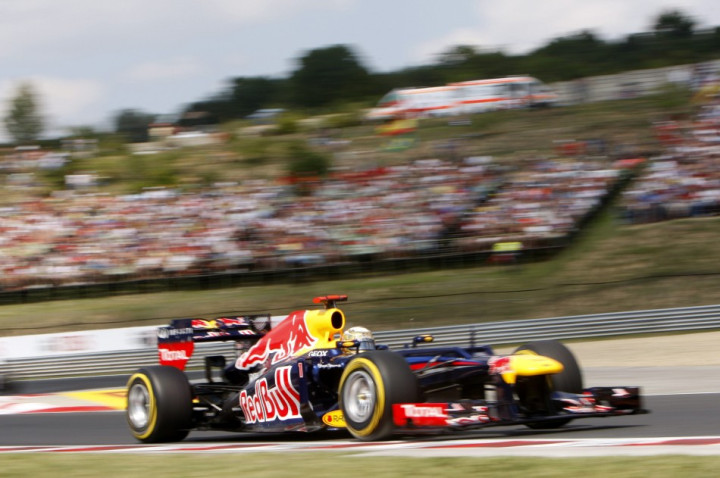 That still doesn't explain the qualifying gap of nearly a second but that could indicate Ferrari are hoping for one of two things - a) rain, at some time in the race, has been forecasted and given the car's pace in wet/damp conditions, Ferrari could turn the race on its head if the heavens open, and b) both cars are running slightly heavier fuel loads than those ahead of them.
The Hungarian GP is a 70 lap race and last year the general trend was a three stop race, with longer runs after the final stop. Ferrari could be gambling on maybe running longer first stints or maybe even a shorter pit strategy - just two to the McLaren's potential three.
Pirelli have brought their soft and medium compounds for this race, with the soft compounds being designate the option compound. Furthermore, as we explained in an earlier IBTimes UK preview, the emphasis for the Hungaroring, aerodynamically speaking, is downforce and the creation of mechanical grip. The circuit is not used very often in the season, meaning it starts off a little dusty and grip is a problem, as Button explained after qualifying.
"It's a pity that I just missed out on P3 at the end of Q3, because the odd-number side of the circuit is quite a bit cleaner than the even-number side. If I'd stayed in P3, it would have made it a bit easier to get a good start tomorrow," the 2009 world champion said.
This means that while the track will rubber up and offer more grip later in the race, initially the teams will rely on running as much wing as they can, without robbing the car of straight line speed. The point, given the slow speed but flowing corners that characterise the circuit, is to generate traction going in and coming out of each turn. That allows, basically, for the fastest car.
Finally, it should be noted that the Hungarian Grand Prix is known for being a demanding track on machinery. Despite its slow speed nature, the often hot weather coupled with limited run-off areas means there could be a number of retirements.
Weather Forecast
If Ferrari were hoping for rain on Sunday, they are likely to be disappointed. There are showers forecast in north-east Hungary but these are not expected to be anywhere close to the circuit. In fact, the general forecast is for a lot of sunshine, which will be good news for the McLarens.
The race is scheduled to start at 2 pm local time (1pm BST) and the skies will be clear and the weather sunny all the way up to and beyond the race, at least for now. Expect temperatures in the mid to high 30 degree Celsius range, with a maximum of 35 degrees Celsius an hour before the start.
There will also be a reasonably strong wind, drifting in from south by south west to a more westerly point and averaging 14km/h to 17km/h through the race. This means cars entering the slow sequence of corners at the far end of the track (Turn Five through Turn Nine and maybe 10) will likely be driving into the wind. However, the generally low speed nature of the circuit and Turns Six through Eight in particular) will mean wind should not be a problem. There is the short straight from Turn 10 to 11 though, and cars could face westerly winds (from their left) as the race wears on.
Where to Watch Live
You can follow all the action live, including previews and build-ups, from 11.30 am BST onwards, on Sky Sports F1 and Sky Sports F1 HD. You can also follow the action live, via real-time text updates, at the Formula1.com Web site's Live Timing section. Remember to catch the highlights of the action on BBC Two, from 5.15 pm BST to 6.30 pm BST.