Jenson Button has started a war of words with Sergio Perez by insisting that his McLaren teammate needed to 'calm down' during the Bahrain Grand Prix.
Coming into one of the high speed straights, Perez came close to colliding with Button which forced the Brit to react angrily over the team radio.
Button has now insisted that the pair will discuss what happened as he doesn't expect to come close to touching wheels with his teammate at such high and dangerous speeds.
"I'm not used to driving down a straight and your team-mate wiggling his wheels at you and banging wheels at 300kph," he said, according to the BBC.
"That's things you do in karting but grow out of. Not the case with Checo.
"I was very vocal on the radio, emotions were running high, but I would say the same thing again.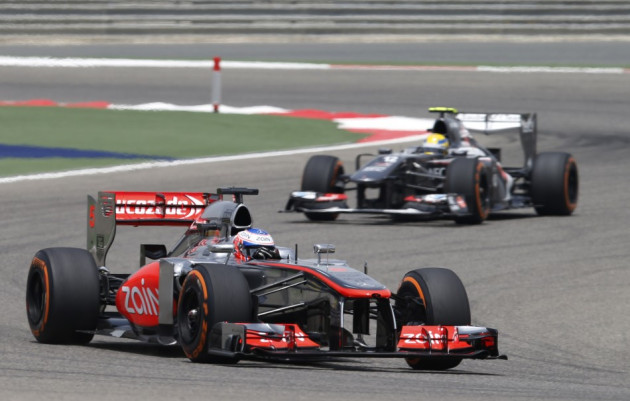 "It was a fun race, lots of good fighting, most of it clean - [the] only person who wasn't was my team-mate. I wouldn't say it was aggression, but something you should learn in your early formulas.
"Banging wheels at 300kph isn't something we do in Formula 1 normally - so it's a new thing for me, maybe this is the way we go racing now, I don't know. But it's not the way I want to go racing.
"We'll have to have a little chat I think because I don't like banging wheels at 300kph. That's dangerous."
Button told team members during the race, as Perez came up behind him: "He's just hit me up the back. Calm him down," and: "Moving across on the straight and wheel-banging; come on guys."
Perez also admitted that the incident shouldn't have happened, saying the wheels banged "a bit too much definitely". He added: "It was a little bit too risky what we did, Jenson [and] myself."
Perez eventually came sixth in the race, while Button came 10th, with the latter insisting he was pleased his teammate could gather more points for McLaren.