International swimming governing body Fina has finally revealed the reason for the odd change in colour of the Olympic diving pool at the Maria Lenk Aquatics Centre in Rio. Those watching the women's synchronised 10m platform final on Tuesday night (9 August), an event won by Chinese duo Chen Ruolin and Liu Huixia, were perplexed to find that the water had transformed from its usual sparkling clear blue to a rather murky green.
Theories were abound on social media as to what had caused this, with the most popular suggestion pointing to the possible presence of algae and copper that may have infiltrated the pool due to a lack of chlorine. It was quickly established that, while not especially pleasing aesthetically, the water posed no danger to the athletes competing.
"Fina can confirm that the reason for the unusual water colour observed during the Rio 2016 diving competitions is that the water tanks ran out of some of the chemicals used in the water treatment process," a statement confirmed on Wednesday afternoon.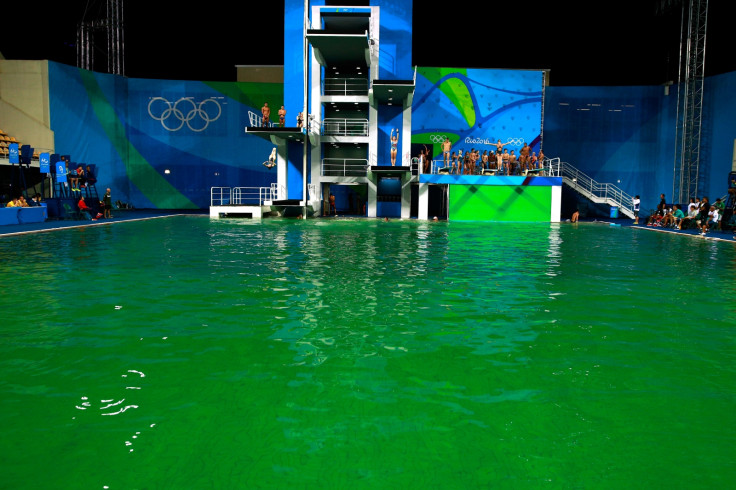 "As a result the pH level of the water was outside the usual range, causing the discolouration. The Fina sport medicine committee conducted tests on the water quality and concluded that there was no risk to the health and safety of the athletes, and no reason for the competition to be affected."
Fina did not say whether or not the water will return to its usual colour ahead of tonight's men's synchronised 3m springboard competition involving Team GB pair Chris Mears and Jack Laugher. Team GB have already claimed one medal in diving so far this week, with Tom Daley winning his second Olympic bronze alongside Dan Goodfellow in the men's synchronised 10m platform. Tonia Couch and Lois Toulson could only manage a fifth-place finish last night.