Universal Studios is opening a new attraction at its Wizarding World of Harry Potter theme park in Orlando, Florida entitled, "Harry Potter and the Escape from Gringotts", which will allow fans to experience a key scene from the final Harry Potter film where Harry, Ron and Hermione break into the Gringotts wizarding bank in Diagon Alley, London.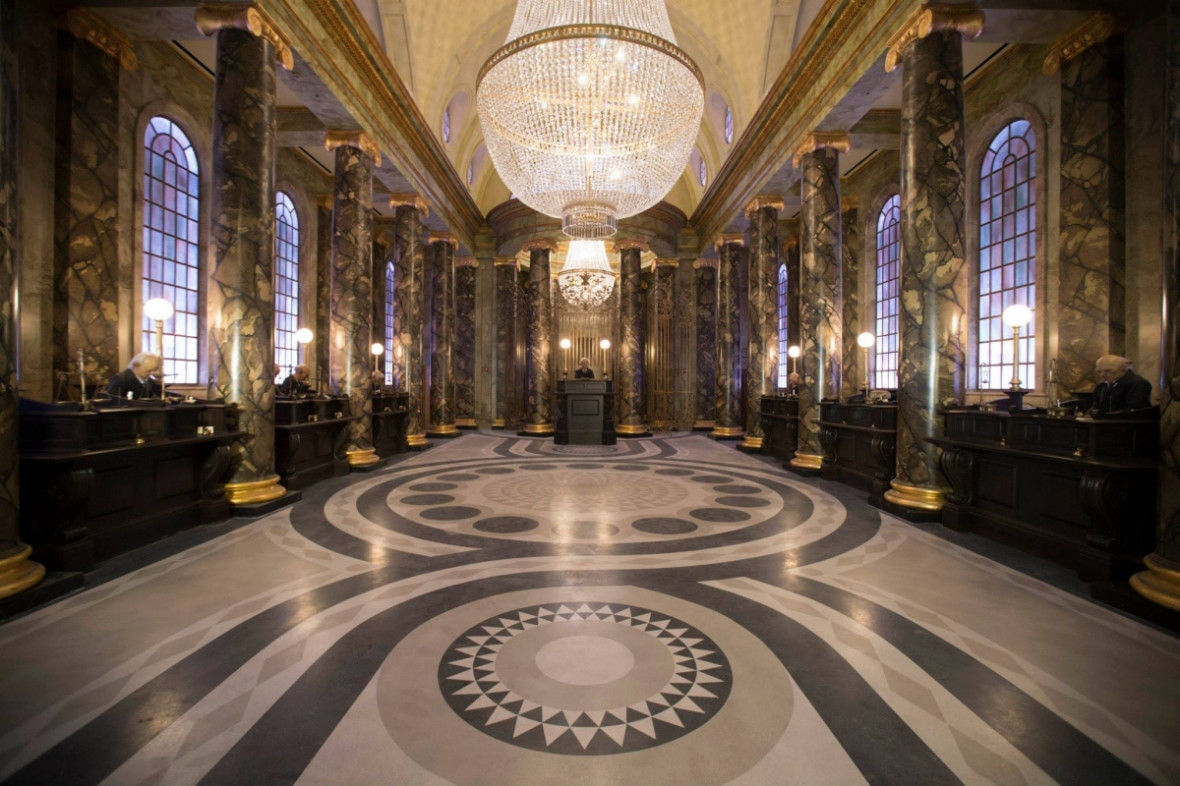 In Harry Potter and the Deathly Hallows Part 2, the trio break into the wizarding bank Gringotts, which is well-known for its formidable security, to steal Helga Hufflepuff's cup, which is one of Lord Voldemort's horcruxes that they need to destroy in order to get rid of him. However, the cup is safely stashed in the vault of Belatrix Lestrange and guarded by a dragon, so Harry Ron and Hermione enlist the help of the goblin Griphook to break in.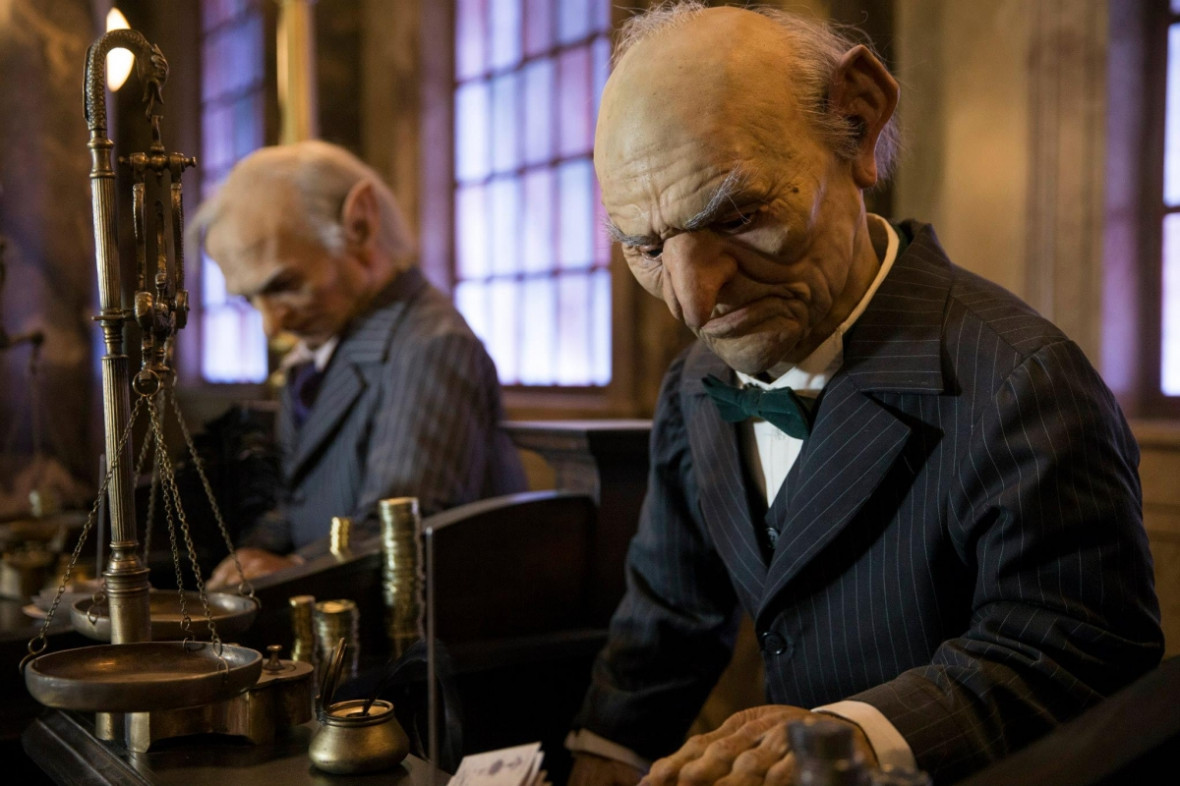 Harry Potter trio Daniel Radcliffe, Emma Watson and Rupert Grint have reunited to film scenes for the new ride, together with Ralph Fiennes (Lord Voldemort), Helena Bonham-Carter (Bellatrix Lestrange) and Warwick Davis (Griphook).
"They'll be there! It's quite exciting," Alan Gilmore, the art director for both the rides and the films, told MTV News. "They're regrouping for one last adventure."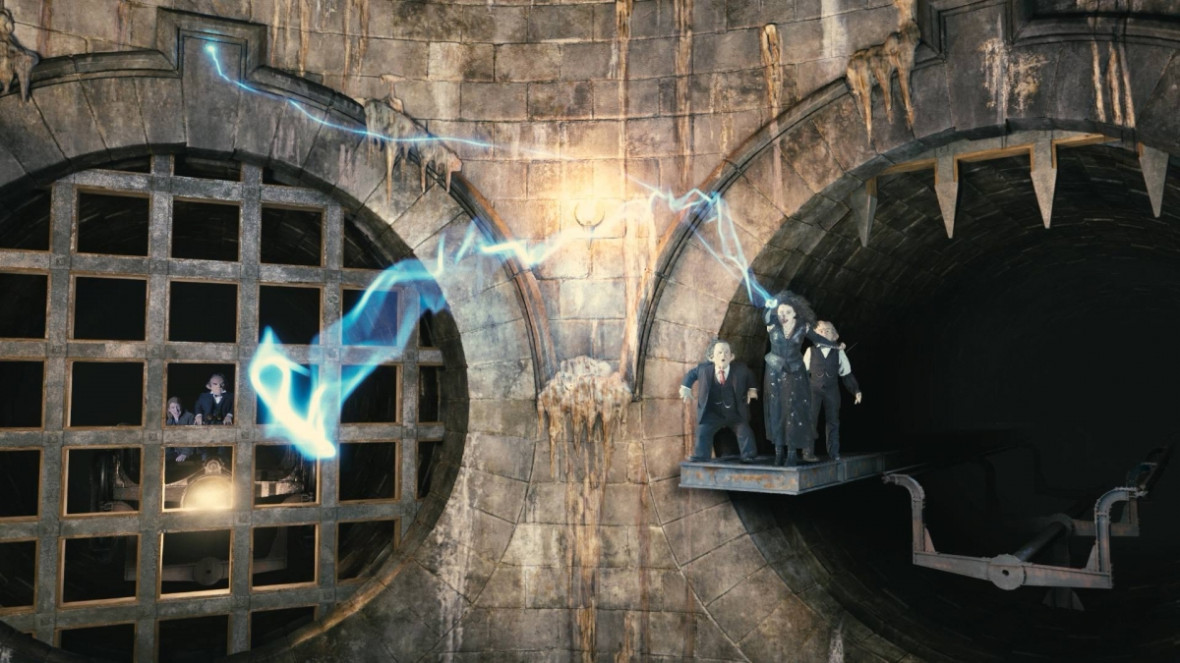 The ride will not be reusing footage from the Harry Potter films, Gilmore went on to say.
"It's all new, it's a brand new film and it's absolutely film quality, involving the films team, a merging of the film team and the Universal production team," he said.
"Of course you have He-Who-Must-Not-Be-Named making an appearance. Helena [Bonham-Carter] supports him as one of his team. And then we have our main heroes appear as well. You get to meet all the great characters from the stories."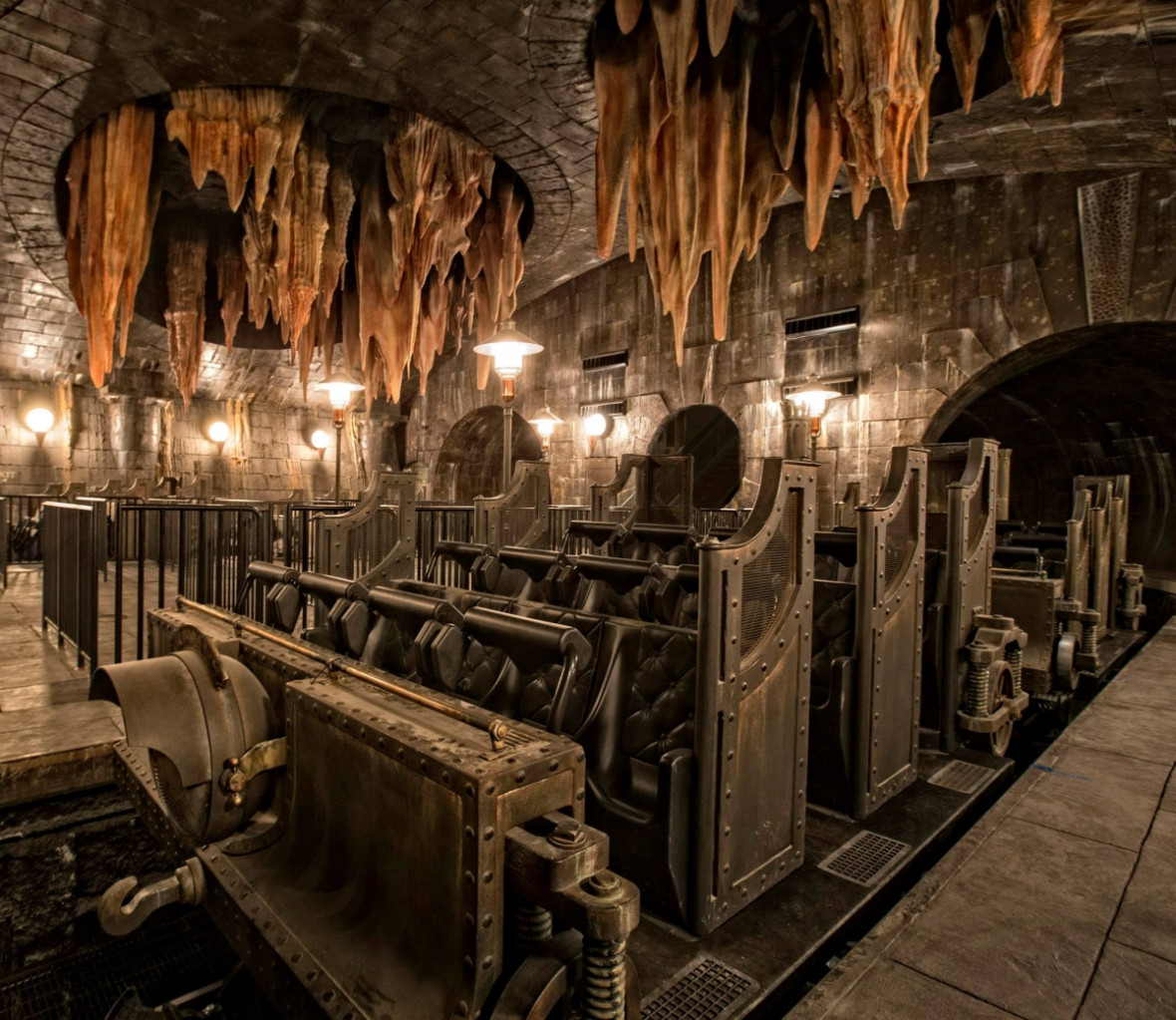 "My motto is, we're building a real place, we're not building a theme place," said Gilmore. "I want to walk in, and feel like they're actually in London, or actually in Gringotts."
Gringotts Bank is not going to just be a ride, but a full standalone building that visitors can explore. A dragon will be stationed outside the building, while inside, there will be a room full of goblins working away, who will be "actually moving", according to Gilmore. There will also be purpose-built rooms in the bank that "no one has ever seen before" in the films.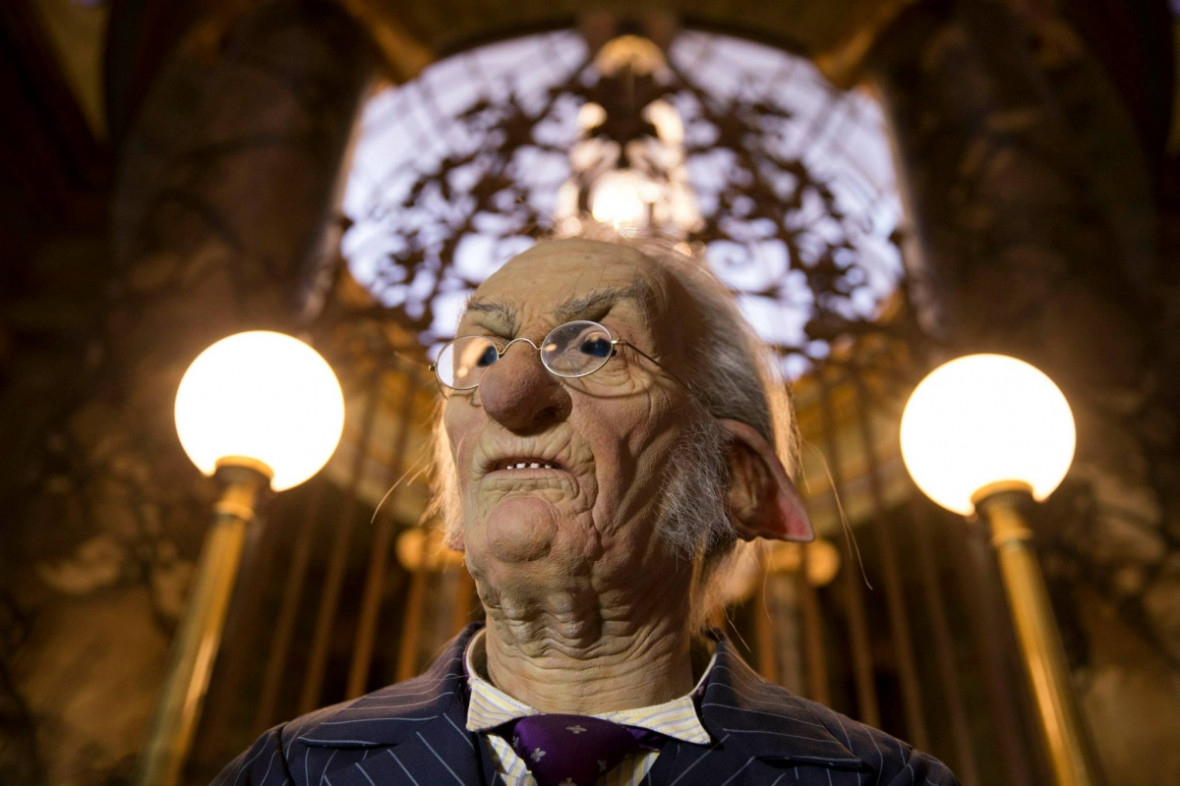 Gilmore has also said that there will be TV screens boasting Ultra HD 4K resolution all over the ride, and that there will be plenty of "easter eggs" for fans to look out for.
"We involved more of the film people in this one," he said. "We brought the sculptors and painters on the film to educate the local Florida theme park guys, develop finishes and textures. It's almost a perfect facsimile of the film set. The first 'Harry Potter' [ride] was good, but this one is even more detailed."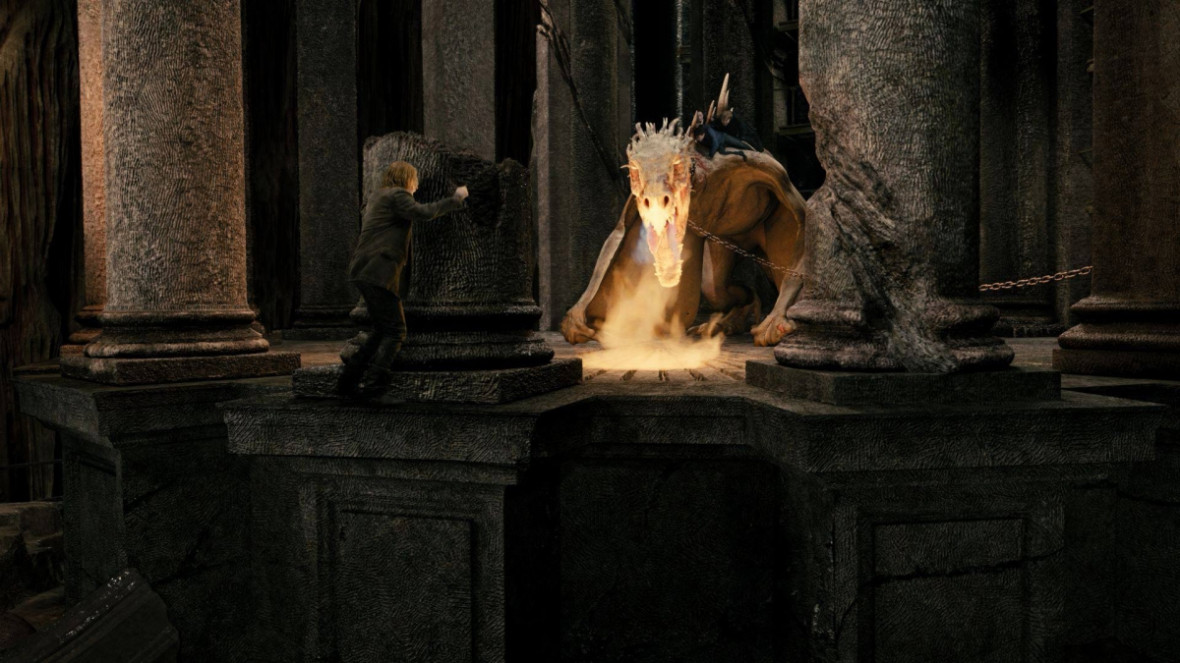 At the moment, the Wizarding World of Harry Potter theme park at Universal's Orlando Resort consists of three rides - "Dragon Challenge", a roller coaster where visitors relive Harry's first Triward Tournament challenge duelling a dragon; "Harry Potter and the Forbidden Journey", which is a tour of Hogwarts Castle and its grounds; and "Flight of the Hippogriff", another roller coaster that features the magical flying creature from Harry Potter and the Prisoner of Azkaban.
Visitors can also go shopping in Hogsmeade Village and visit Dervish and Banges as well as Zonkos toy and joke shop. Diagon Alley is currently under construction and will feature several signature shops, as well as Gringotts Bank.
Now you've seen the pictures, take a look at the video Universal has put together about the new ride: